PARKROYAL Melbourne Airport's Lounge & Swim Package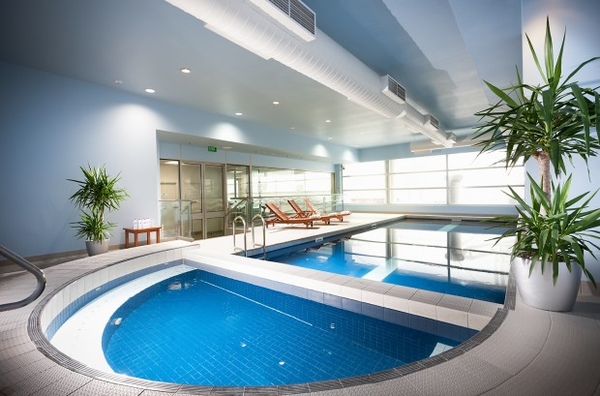 Friday 1st April 2016: From today, visitors can delight in PARKROYAL Melbourne Airport's swim and lounge package for only $15, offering more than your standard airport lounge with access to the hotel's leisure facilities, lounge and AIRO Bar & Restaurant. 
Just a two minute walk from both domestic and international terminals via two pedestrian sky bridges, day guests can relax and rejuvenate in PARKROYAL Melbourne Airport's well equipped gymnasium, heated pool, whirlpool bath, sauna, steam room and stylish bathrooms with complimentary amenities. Invigorate aching muscles with an adrenalin hit in the gym, revitalise the senses in the steam room or simply enjoy refreshments at the contemporary AIRO Restaurant & Bar, serving tea, coffee and a diverse selection of beers, wines and specialty cocktails all available for purchase.
Open to all visitors and guests, take to plane spotting and free WiFi from the comfort of AIRO Restaurant & Bar, set overlooking the International Terminal. Executive Chef Jee Whan Lee is at the helm of the kitchen, ensuring a collection of delightful treats and savoury offerings from light bar snacks to burgers, pizzas and gourmet mains, provide a memorable and relaxed visit with the highest of quality. Express meal options are also available for an uncomplicated yet delectable visit.
For those preferring to unwind in a spacious and well-appointed day room, from just $85 guests can relax in a Standard room with the use of all facilities (pricing for three-hours $85, five-hours $105 and eight-hours $130; available between 7am - 7pm daily). With deluxe amenities, free WiFi and easy access to both terminals, this is the perfect stopover to impress even the most seasoned of travellers.
Leave the hustle and bustle of the airport terminals behind and take in the indulgent yet inexpensive swim and lounge package at PARKROYAL Melbourne Airport. It'll be worth it.
ABOUT PARKROYAL Hotels & Resorts
PARKROYAL Hotels & Resorts is a collection of 16 comfortable leisure and business hotels, resorts and serviced suites (including those under development) located in gateway cities across Australia, Indonesia, Malaysia, Myanmar, Singapore and Vietnam. Each PARKROYAL reflects the spirit and individuality of its location through creative touches, authentic tastes and local connections. Whether you are travelling for business, leisure, or even with the family, each PARKROYAL hotel and resort is designed so you can work in connected comfort, or relax in soothing surrounds. PARKROYAL Hotels & Resorts is a member of the Global Hotel Alliance, the world's largest alliance of independent hotel brands. For more information, visit parkroyalhotels.com.
Follow us on social media:
Facebook: https://www.facebook.com/parkroyalmelbairport
Twitter: https://twitter.com/PARKROYALAus
Instagram: https://www.instagram.com/parkroyalhotelsaustralia/