Bleak and Mortar - 5 Tips For Bringing Life Back Into Your Home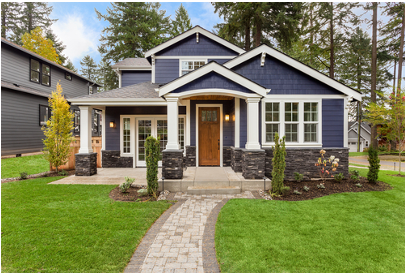 It is easy to grow complacent with the place you live in.
You see it day in, day out and may not always notice the little things that are happening (or not happening). Every now and then, we realize that our home needs a little something; the walls don't look as bright as they once did and the furniture hasn't been updated in ten years!
Here are our top five tips for bringing life back into your beloved home.
Exteriors
Stryum, fantastic providers of cladding systems in Sydney, suggest that adding facades to your exteriors can change the feel of a property entirely. By adding some timber or metal cladding to just a small area of your exterior, you are giving your home a unique accent and point of interest.
Adding certain materials can define the home and cue the rest of the design elements you wish to include throughout. A wooden facade may suggest the use of natural, soft materials, whereas metal may suggest a more industrial theme
Kitchen/ Dining Room
Nothing refreshes a kitchen like fresh appliances and a really good clean.
If your kitchen is feeling drab and out of date, you can do plenty of things to make it feel refreshed. Sometimes, just giving my kitchen a thorough once over makes it feel brand new again, as the chrome sparkles and everything smells fresh.
If that doesn't do the trick you can paint your cupboards, change over the handles on draws, or replace the out of date appliances. A new microwave, oven, kettle and toaster can make the room feel like a million bucks!

In the dining room, you can do as little as buy a few fresh table cloths and some flowers, or you can go as far as purchasing a new dining setting or having your old furniture restored. New cutlery and dishes can also make settings much more classy.
Landscaping
When you want to update your yard, it is best to start slowly and add things over time.
This will help you plan and keep things manageable. The best modern yards are functional and have plants that are easy to care for (bonus points if they are native to your area!).
Outdoor eating areas are extremely desirable and are fantastic for entertaining.
The garden itself should have a good variety of colour and have points of interest at various heights. You can do this by adding raised garden beds or by working with a range of bushes, shrubs, trees and crawlers.
Liven Up The Bedroom
Splurging on some new lamps and linens in the bedroom is a fantastic way to make the bedroom feel new and extra comfy. Pick happy colours and soft fabrics for just the right amount of liveliness. If you have the space adding a great chair or recliner is a great statement piece, plus it's better for your back if you are a reader!
Finish off the space with some great pillows and a throw rug.
If the bedroom isn't carpeted and you feel like the room could use something extra, consider purchasing a really lush rug. Your feet will thank you on those cold winter morning!
Literally Add Life!
If you are wondering how to add life into your house you should absolutely consider adding some indoor plants. There are so many benefits; they look great, they freshen the air and reduce carbon dioxide, they promote calmness and wellbeing. and they can even lower background noise levels!
You can't go wrong with a little rearranging and you and your home will thank you for the hard work you put in now so that you can continue to enjoy your place for as long as you occupy it!