Classy Cleavage: Women's new favourite beach asset
Written by

Tess Sanders Lazarus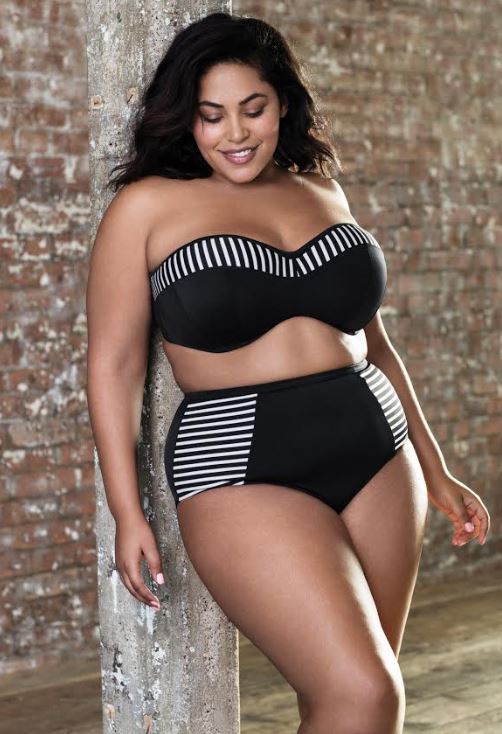 40 per cent of women say their favourite asset to flaunt at the beach is their cleavage - more than any other body asset.
But Australia's very own 'Bra Whisperer,' Esther Labi, founder of iconic bra store 'Storm in a D Cup', says that although she is delighted so many women embrace their busts, she is concerned curvaceous women often struggle to feel confident in their swim wear.
"Although it's fantastic that so many women are confident in their swimwear, there are also many with larger busts who shy away from a day at the beach, simply because they worry about looking too busty or that they are going to fall out of bikini top with every oncoming wave."
"I love and embrace my own lumps and bumps, but there is a lot of pressure on women across the media and especially social media to look a certain way.
"A lot of influencers do not help by constantly posting unrealistic images of themselves and there are lots of tricks of the trade, like filters and certain poses that they use, to make themselves look good.  This creates doubt for women about their own shape and erodes their self confidence.  At Storm in a D Cup we really love the body positivity movement.  We firmly believe that the best thing to wear at the beach is confidence!
"With summer on the way, we need to help women push aside any doubts and make the most of the sizzling season by jumping into swim wear and flaunting the beautiful body they've been given.
"Sometimes though, when it comes to rocking our beach body, it's easier said than done.  That's why I've come up with some tips to help women with big busts feel fabulous and comfortable in their swim wear for summer.
"I have put together seven tips for women with big busts.
Envisage your summer: Consider all the activities you'll be doing in your swimsuit to help you decide which design is right for you.  If you'll be getting active, you'll likely opt for a supportive underwire design with bra style straps.  This means you can wear your swimwear to the beach, play a game of volleyball, touch footy, go surfing or just wander around the rock pools and it will be supportive and comfortable all day long.  Look for a tankini or swimsuit with an inbuilt bra and opt for swimmers with  three rows of hooks to do up inside.
Select your bikini top how you would choose a bra:  If the main activity of the day is lying by a pool sipping pina coladas then consider a halterneck style or even a bandeau style.  You won't feel the weight of your bust on your neck if you're floating on a lilo.  Above all, it should be comfortable - or you'll never wear it.   Swim wear should feel as comfortable and supportive as a bra and if you can, try and get your bra sized bikini fitted by a professional.   
The more fabric, the merrier:  Thick straps or a wide elastic band under your bust will help keep your chest up, and will give you piece of mind that everything is where it should be.   Iconic and retro styles are classic, look luxurious and provide far more coverage than more modern styles. They look great on women blessed with an hourglass shape.
Use darker colours to define your physique:  It's one of the oldest tricks in the book - but it never fails. Darker colours around the waist line, with a dash of brightness to draw attention to your favourite assets is a simple way to contour your shape.
Avoid the mono-boob look:  Your two pearls are glorious in their own right!  Choose swim wear that separates the two, giving them definition.  A swimsuit with a deep V neckline or with convertible straps is a good option here, but above all, get a bra sized swimsuit that fits like a bra!
Stay in control:  Every year, there are more and more clever designs available to empower women to spontaneously switch up how they wear their swimsuit.  A zip-up front for example, allows you to decide how low your V-neckline sits, while changeable straps come with almost endless possibilities to wrap around your décolletage and back for the most flattering fit, allowing you to change from a halter to a bandeau in a few seconds. There are also swim bras (yes they do exist) that are plain enough to sit under a rash vest or under a one piece that has no support.  These kind of bikini tops go up to size 22 and a cup size JJ.
Smile. You are beautiful.  There's is nothing more radiant than a woman confident in her skin. With a beautiful body and a bedazzling bust to show off, there is no reason to hide away from the surf and sand.
"Too many plus-sized swimsuit designers focus on covering up the bust and creating modest designs.  For me, this is really disheartening but I am happy to report that some brands are really embracing the body positivity movement and shaking things up!  
"Women should be embracing their bodies – I've seen it myself at every beach I've been to.  There'll be one curvy woman letting it all hang out in a micro bikini and no one bats an eyelid.  If no one else cares, why should you?  
"I always tell my customers who are looking for a control swimsuit that they should consider wearing a bikini.  I tell them the story about how I put on a bikini for the first time over the age of 40 and I realised that I was my own biggest critic.  I also point out that if you're in a bikini it's easier to go to the toilet than in a swimsuit.
"Sometimes, as curvy women, we have to get out of our own way to get out there and enjoy life.  Don't let your thoughts about your body stop you from jumping into the pool in whatever you decide to wear.
"If the plus-size market fails to offer a range of bright, loud and classy designs to match the uniqueness of our personalities, it's no wonder so many curvy women can sometimes feel uninspired and downright saddened when they go swimsuit shopping.
"But things are changing.   I work closely with our clients in the lead up to summer, to provide a range of supportive bikinis and swimsuits, that are on-trend and don't sacrifice style.
"I hope that more plus-size women feel they can embrace their bodies and not hold back when it comes to hitting the beach this summer.  Everyone deserves to look and feel good - and there's no time like the holiday season to put ourselves out there and be proud of our bodies."