Prepare for Trouble, Make it Double - How to Have Twins Without Rocketing into Debt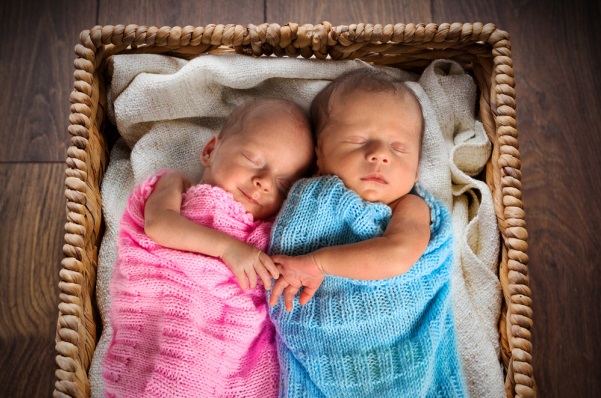 A statistic commonly directed towards prospective parents of twins is the notion that, to the age of 21, two children will set parents in Australia back upwards of $800,000. If that were truly the case then the majority of current parents would be living in the poor house!
Even if this figure is greatly exaggerated, the average parents expecting twins would be justified in receiving these figures with nothing short of profound despair. Speaking from experience however, I can assure parents that budgeting for twins is simply a matter of distinguishing between the things you think you need, and the things you actually DO need.
Successfully equipping yourself for the arrival of two babies needn't mean doubling your budget - it just means a little strategic planning…


Transportation
One of the big ticket items for twins is simply the cost of equipment to transport them from A to B. As with everything in life, you generally get what you pay for. This also applies to car seats and twin prams.
A single versatile pram or stroller should be flexible enough to cater from newborn through to preschool. This means that a one-off, quality purchase can save you a fortune, avoiding the cost of replacing, repairing or upgrading.
The same philosophy applies to car seats. Look for convertible car seats which are flexible enough to adapt from rear facing for newborns through to forward facing for larger babies and toddlers.


Nappy happy
Begin thinking about nappies early. Stocking up on disposable nappies by buying a bag every time you go shopping, will mean less cost when the babies arrive. Calculating the cost of disposable nappies for two babies can be a harsh awakening, with the average baby requiring between 6 and ten changes per day. Double this figure for twins and the costs can be daunting. For this reason, many savvy parents are moving back to traditional cloth nappies.
As a comparative example, a bag of 50 disposable newborn nappies from a name brand, will cost approximately the same as a dozen cotton nappies from a store like Kmart. Cloth nappies are a single purchase item and whilst there is cleaning involved, they can save big dollars over the first three years.
If the thought of laundering cloth nappies is unappealing, consider alternating them - perhaps using cloth nappies overnight or vice versa.


Feeding
Breastfeeding twins is not only enjoyable for all concerned but costs absolutely nothing - think of the time, effort and money you can save! Many women worry that they won't have enough milk for two babies but milk supply is run on a 'supply and demand' basis. This means that, as long as you are eating a healthy, balanced diet, your body will produce enough milk to feed twins and even triplets.


Clothing
One thing that is never in short supply is baby clothes. A friend or a friend of a friend is sure to have bags full of clothes they wish to unload. Alternatively, begin buying baby clothes from early pregnancy. This gives you the option to buy clothing out of season at sale prices.


Sleep
Research suggests that a single bassinet may be used for newborn twins to enable them to sleep better. This should only be practised before they are mobile, to avoid the risk of one laying on the other.


A word of caution...
Avoid second hand baby equipment like car seats, cribs and prams. Australian safety legislation dictates that mandatory safety standards are adhered to. These revolve around design, construction and performance. These standards are regularly updated and many older products do not conform and may be deemed as dangerous or a safety hazard.
Twins may mean double the work and double the joy but they needn't mean double the cost. By avoiding pushy advertising and sticking with the bare necessities, the cost of raising twin needn't be substantially more than a single child.