Aussie blokes prove fashion is about living not just catwalks
Written by

Tess Sanders Lazarus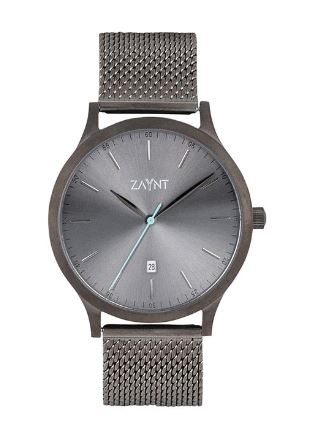 The fashion world is usually a dominated by those with a close connection to style, design houses and catwalks.    But two Aussie blokes are proving that you don't have to have a background in fashion to create designer products.  
Melbourne based Daniel Mariniello, 33 and Jason Spirito, 34, lifelong friends who have a passion, for fun, adventure, fitness and fashion, have released a range of classic watches and they are flying out the door. 
"We've spent years chasing sun all over the world, spending quality time with the ones we love, achieving goals and staying healthy - both mentally and physically.  I'd say this is what Zaynt is about; inspiring you to be you, doing what makes you feel alive and looking good doing it," Jason Spirito said today.
"I found that different activities needed different watches and more often than not watches couldn't really overlap into other areas.  I'd find myself having to bring a few different watches with me if I had to change outfits throughout the day.
"When Daniel and I got back to Australia, we decided to put our heads together and come up with a range of watches that suited a broad range of activities and environments and we are really pleased with the result.  
"Watches should be about fit, fun, comfort and down to earth style and this is what our range of Zaynt watches provide.  They're great for a range of different situations and are never too formal or too casual.
"We're always on trend and our entirely online platform allows us to sell at prices that won't harm your bank account.  Our straps come in a range of different materials, styles and colours and with the different face options you'll be spoilt for choice.
"By travelling all over the world, from the US to Europe, we've been able to witness different fashion trends and those have inspired the way we design our watches.  More than that, our designs are inspired by good times.
"Our watches are designed so that you can wear them to work at the office from Monday to Friday and then wear them on Sunday to see you mates over a few drinks and exaggerated stories." 
"We want Zaynt to be about something much bigger than us though.  That's why $5 from every watch sold goes to 'Save Our Sons', an organisation fighting to find a cure for muscular dystrophy," said Daniel Mariniello
"Someone very close to me suffers from muscular dystrophy and I know how much of a toll it takes on a person and those around them.  That's why we have committed to helping to put an end to it through our online platform.
"We're doing something we love and if we can help other people whilst we are doing it, then we're going to."
Zaynt Watches includes a range of watches as well as a few other lines of jewellery.  All products are designed by the owners and manufactured overseas. Zaynt currently ships to the US, Canada, the UK and New Zealand with more countries coming on board in the near future.
"What you wear should make you feel good about yourself but more often than not you have to sacrifice comfort for style or vice versa," Jason Spirito added.
"Zaynt is dedicated to making sure that with our watches you'll be able to look on-point all day with no problems.  You'll be able to go from the gym, to work then to a classy night out without taking off your watch once.
"We want our watches to be the new classic, they're designed for attention and when you're wearing one, you'll know it."
Zaynt Watches has already expanded its range to include jewellery.   While some retailers have already approached the founders to discuss stockist arrangements, the products will continue to be sold online for the time being.