Don't let COVID-19 stop your travel plans. As long as you practice safe guidelines, you can still get out and get that vacation you desperately need in December. The starting month for the winter season offers some very festive places to go if you are in the mood. From wonderlands to Christmas spark to warm, tropical areas, these three destinations should be on your big board for vacation destinations. 
Miami, Florida


When it gets cold, Florida is the place to go. With COVID-19 cases rising, being outside is a safe spot and this warm area will allow you to do just that. In December, the contemporary art fair arrives, where you can see some of the best international artists. If you aren't checking out the beach (limit in occupant size due to the pandemic), you can check out the main convention centre or some of the
quality casinos
in town.

Miami's football franchise, the Miami Dolphins, are currently in a playoff push and the governor allowed fans to attend games. Rookie sensation Tua Tagovailo won his first three games of his NFL career and has this team rolling. You could check out a game and then some of the local restaurants and seafood. All in all, if you are wanting to get away and enjoy weather that is consistently in the 80s, Miami is the place to be.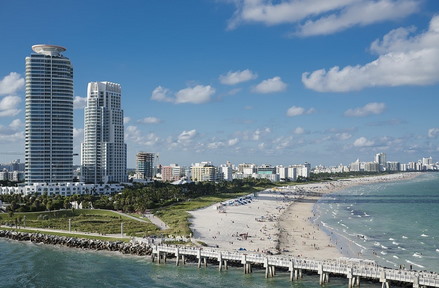 Berlin


Maybe, you are somebody that can handle the cold weather. If so, then brace yourself through the harsh weather conditions in Berlin and soak in the rewards that come with it. This month is all about Christmas and the city becomes one of the most charming locations in the world. While visiting, check out the Brohan Museum, a market where products are handmade by locals, and get yourself a round of gluhwein.

The Berlin Botanical Garden features beautiful lights and breathtaking sculptures on display each December. The ice rink opens up and you can have that Kodak moment with your partner. Fire pits, hot alcohol, and
of course gourmet hot chocolate
are available for afterwards. If you can handle the cold, this is truly your winter wonderland destination. 

Mexico City


December is one of the best months to visit Mexico because the rainy season and hot, summer months have passed. If you are wanting to get away from the cold, celebrate your Christmas in Mexico City. Street tacos, tamales, and tlacoyos may not be traditional festive food from where you are from, but nothing says vacation fun like exploring something different, right?

While you visit, the Templo Mayor Aztec ruins and the Frida Kahlo Museum are great venues for entertainment. Juarez, known as one of the
"coolest neighborhoods around"
, features creative designs, restaurants, and bars in one location. You can get your margarita, enjoy the street park, and walk your way to your next adventure. If you visit during New Years Eve, you will be entertained with fireworks at midnight, which is a must-watch event if you have never visited the city.