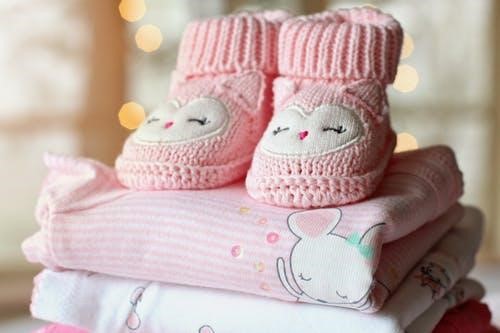 Shopping is fun, and for some people, it works as an antidepressant. Shopping for baby clothes is even more of an enjoyable experience. People usually do not put much thought while buying clothes for babies. People generally head to shopping stores and buy whatever appeals to their eyes. The truth is nursing a baby is a 24 hours job that requires parents to stay on toes for feeding, changing, soothing and million other things. Women tend to purchase baby clothes in the pregnancy stage. Pregnancy and baby expo have a wide range of variety available. In this digital age, people are more inclined towards online shopping. Ordering through the Internet is a new and trendy thing. Shopping from the comfort of your home is convenient and saves a lot of time and hassle. Baby clothes are much more than designs, sizes, and colors. Here listing down a few tips to consider before spending money on baby clothes.
PICK CLOTHES ACCORDING TO YOUR BABY'S SIZE. Usually in the market baby's clothes are categorized in age, as in 0 to 3 months, or 3 to 6 months old. However, every baby develops differently. Their sizes and weight vary. If you are buying in the pregnancy stage then it is better to be on the safe side but the zero size.
KEEP COMFORT IN MIND. Here is the catch, comfort here does not refer only to your child's comfort, but to your comfort as well. Some clothes look elegant and stylish but require a lot of work from your side, like tying laces, buttons, and other stuff. Getting one or two articles of these types of clothes may be a good idea, but do not go beyond that. Everyday wear should be easy to wear. Also, your child should feel comfortable in those clothes. Babies love moving their hands and feet and clothes that restrict their movements limit their growth too. While buying clothes select those which give the room to your child to move his hands and feet around.
CONSIDER THE WEATHER. Although it seems obvious for new parents that the weather should be the utmost thing to consider. Children are sensitive and babies are even more sensitive. Harsh weather affects them strongly and has a long-lasting effect. Weather appropriate shopping is more important than size appropriate.
BABIES' SIZE CHANGES IN THE WINK OF AN EYE. They grow fast and outgrow those stylish clothes you bought with so much love. It is recommended to buy baby clothes in a limited quantity because of the same reason. With Internet shopping and fast delivery, shopping has become more convenient. It is better to buy as baby grows instead of stocking up a pile for upcoming weather and occasions. Usually, shopkeepers help but always keep in mind that their motive is to sell their products. It would help if you were clear in what size you want instead of completely relying on them.
AVOID EXPENSIVE CLOTHES. You may find yourself tempted to buy expensive clothes. Hold on and see if it is worth it. Parents want to give the best to their children and while there is nothing wrong with it, they sometimes get carried away. Expensive clothes do not always mean comfortable clothes and may not be of good value. As a parent, it is recommended that you look into the price and analyze if it is of good value then go ahead by all means.
ATTENTION TO THE FABRIC. As stated above, a baby's skin is more sensitive as compared to a toddler's skin. Before purchasing clothing items you should double-check the fabric. Babywear usually are made of soft materials. Like pure cotton or cotton mixed with some other material. Some babies have skin issues and may be allergic to specific materials. Parents of special care children need to be extremely careful while shopping. Sometimes mixed material aggravates eczema. The key is what may suit other babies may not be a good choice for your baby. It is not right to fall into a trend trap and purchase whatever is in trend. Instead, parents' main concern should be to feel the fabric before making your baby wear it.
KEEP YOUR BABY AWAY FROM IRRITANTS. Clothing items come in different styles. Almost all items have labels and tags on them. The placement of the tags in most of the clothes is at the back where it touches the baby's nape. Some clothing tags are made of a different fabric than the dress itself. Parents generally ignore the tag without realizing that tag comes in direct contact with the baby's skin. Special attention should be given to the tags before spending hard-earned money on baby's clothes.
TAKE ADVANTAGE OF DEALS. There is no need to break your bank to shop for your baby. Many high-end brands also offer deals during certain times. Look out for them and grab a few items. Even when buying from deals, it is important to keep all the mentioned tips in consideration for the safety of our baby. Babies need to change every few hours, and this means that they need a lot of clothes. Here we are not recommending that you go overboard but having sufficient quantity is also important because with babies you do not know that sometimes you may have to change three dresses in just an hour.
KEEP THINGS SIMPLE. As much as too many embellishments look tempting, it is better to be a little practical while shopping. Who has time to take out an hour to dress a baby? Go for singleton and onesies they are practical, and babies feel comfortable in them.
BUY A SIZE AHEAD OF YOUR BABY. The keyword here is "A." Babies grow in no time and their clothes at times stay unworn. Especially when you are buying clothes for some special occasion, buy a size ahead so that your baby can have the pleasure of wearing that outfit for a longer time.
CONCLUSION
Shopping for babies gives an adrenaline rush and is an exhilarating experience. Parents enjoy shopping and do not hesitate to spend money on babies' clothing. However, it is always better to be safe than sorry, especially when it involves money. As much as it is a thrilling experience, some people may find it daunting too. Keeping a few things in mind would give value to your money and clothes too. Comfort should be every parent's utmost priority for their babies. Since babies rely on adults for all their mundane stuff, it is also essential to see if they can handle clothes or not. Considering a few things before buying babies' garments will help you in the long run.