'Your new car brings great comfort and joy in your life'.


No denial; buying a new car is the best feeling in the world. That's why; car owners take the best care of their vehicles as they want to keep them in good condition for a longer time. Sadly, the latest and updated car starts losing its worth with time. Flood, rain, storm, and accidents etc., badly affect a car and reduce its actual value. In fact, it becomes complex and challenging to take a wrecked car on the road due to its poor condition. That's why; car owners keep their damaged and wrecked car with them that only occupies space and pollutes the environment.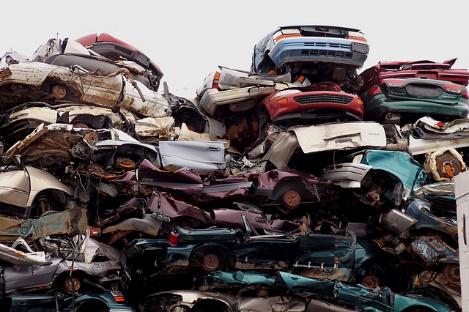 So, do you have a wrecked, damaged and worthless car sitting in your car yard? Don't you think you should sell it? Indeed, it is difficult to sell your beloved car, but it is the best way to get rid of a wrecked car and earn some money in return.
The current discussion also highlights some effective and impressive ways to remove a wrecked car from your premises. You can choose the desired method to remove wrecked and junk car without wasting much time and effort. Also, it's an intelligent way to grab some cash without any significant effort.
Let's discover these interesting ways together.


Ideal Ways to Get Rid Of a Wrecked Car


Here are some best ways to get rid of a wrecked, rusted and damaged car now.
It is considered the quickest and easiest ways to sell an old and damaged car. However, you need to keep one thing in mind that private car dealers never pay top cash for car. Moreover, they pay less than the actual and market value of a car. You need to complete paperwork and other documents before finding the potential private car dealers for your car.
So, if your car isn't road-worthy and you aren't expecting much cash, then you can sell it privately.
We suggest choosing the private car dealers who deal with similar car models (that you have or want to sell). This way, you can earn some better cash for an unwanted car. Remember; keep your car's legal documents with you to find potential car buyers in less time.
Indeed, selling an old and wrecked car using traditional car selling methods isn't a simple task. You need to spend money on car maintenance as it helps you find potential car buyers in less time. Moreover, this way, you can get the best cash according to your car's actual worth. Sometimes, a well-maintained car better grabs the attention and provides you with an excellent opportunity to earn more than the car's genuine worth.
You can use the internet or newspaper for your car's advertisement. Be patient as the entire process may take weeks and months.
Trade it with another car
Another great way to get rid of a wrecked car is that you can trade it with another car. If you want to buy a new or another car, then you can trade your wrecked car model with it. This way, you can buy a new car without spending excess money on it. Moreover, you can save some time and hassle as well.
But, keep one thing in mind that your car should be in a well-presented condition if you want to trade it for another car. No one wants to buy a car that isn't road-worthy. So, consider this option if you think your car is still in working condition.
Indeed, everyone wants to avoid hassle and chaos. So, if you are looking for a hassle-free wrecked car removal process, then you should sell your car online. Multiple websites offer this service, and you can easily find online car buyers near your location.
After a quick evaluation, they accept your car and offer you some money according to your car's worth.
Sell it to Local Car Wreckers.
It is one of the best ways of selling a wrecked car without any trouble. The local and professional wrecked car buyers accept all vehicle types happily. You don't need to pay extra fees or hidden charges for the car removal process because they ensure car pick-up for free.
Additionally, they offer the quick and best-quoted offer by evaluating your car correctly. You can get rid of an old or a wrecked car within 24 hours if you have chosen licensed and certified used car buyers near your area.
They consistently pay the best cash no matter if your car is in working condition or not.


Your Verdict?


So, which of the method mentioned above is worth trying? Consider the pros and cons of each method and make your decision afterwards.