How Will Graphic Design Impact Marketing in 2020?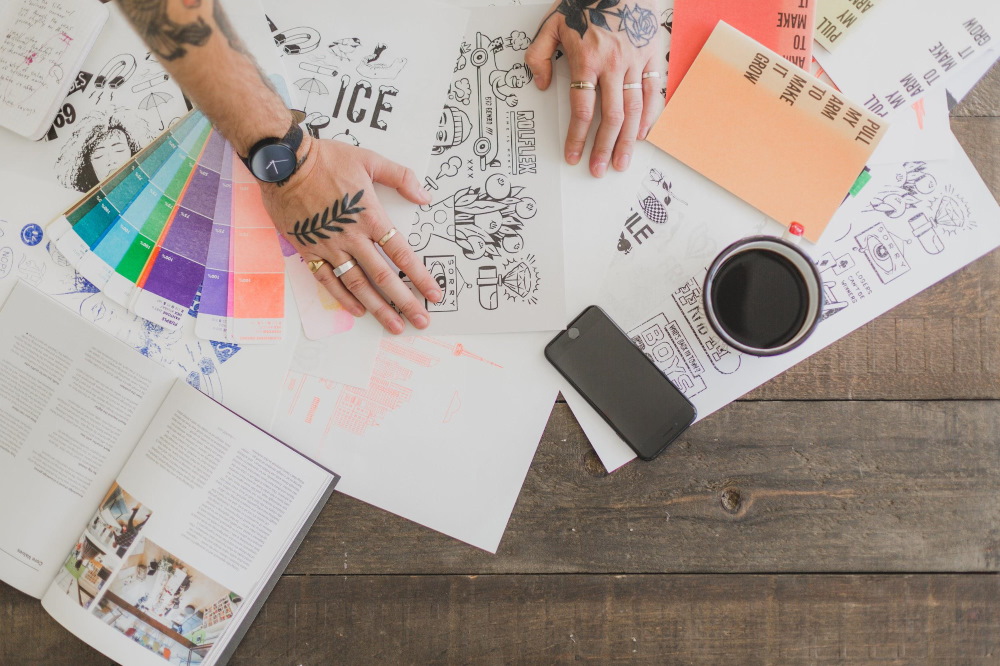 If you are running a business, you are definitely aware of how vital marketing is for keeping your company successful. However, in order for the marketing to work and let your business thrive, you cannot neglect the very important role of graphic design. If used properly, graphic design can not only intrigue potential customers but it can also help you stand out in the crowd. Plus, to ensure you make the most of the opportunities this provides you with, make sure you put a lot of thought into what you're trying to say and use the right tools and all the resources available to communicate your message.
So, if you already started preparing your marketing strategy for 2020, you might be wondering what will captivate the audience's attention. Here are some graphic design trends that are expected to be quite popular so take a look.
Having Unique Typography
Your typography can say a lot about your brand, which is why you need to work on creating something that will show off your character and purpose as well as what it is that makes you unique. Many companies have started developing their own typography that makes them instantly recognizable. For instance, bold fonts have become quite a trend and are bound to stay influential in 2020. Another thing that can be seen that easily catches the eye is animated, three-dimensional typography. Above all, however, you should make it clear and easy to read as well as consistent across all channels. That means that you should use the same font for your pamphlets, videos and merchandise in addition to your website and blog.
Working With Colorful Gradients
Gradients and vivid colors is another engaging trend that's been in use for a while now. Ever since Instagram replaced its Polaroid-looking brownish logo with a new bright one in 2016, the use of gradients has increased quite a bit and it is expected to continue into 2020. Although people were hesitant about accepting Instagram's new look at first, more and more app developers are designing their icons with dreamy and strong color combos. Furthermore, this trend goes beyond just apps. Various companies use it for their logos and graphics and are coming up with innovative ways of combining colorful gradients with their typography.
Combining Online and Offline Visuals
Everyone should be aware of the benefits that combining online and offline marketing can bring to a business. This is not something that will change in the next decade, so keep that in mind when designing your ads and marketing campaign. We mentioned already that you need to use the same font for your printed materials as you do for your blog; therefore, you need to ensure that it also looks good on paper and not just on the screen. The posters you put up around town need to capture the same essence as your online ads and videos, which is why you'll probably need to test out several alternatives. If you decide to do everything in-house, you should look for quality multi-function printers out there that will allow you to easily compare a few options to see which one looks best. Needless to say, get a model that prints in color so that you can see how the gradients look in real life. Moreover, you should also focus on your packaging as that is what draws people in to check out your product.
Implementing Asymmetrical Design
Seeing as how symmetry is usually expected, it should come as no surprise that asymmetrical design draws more attention to itself. However, even when asymmetrical, this design still seems balanced. This type of design appears more modern and fluid. It does not show the whole image which allows the designer more freedom to create a strong impact. There are many ways to experiment with shapes and colors, as well as make it more liberal. Asymmetry can often be seen on social media, especially because the layout of certain platforms requires brands to think outside of the box.
Employing 3D Illustrations
3D technology is nothing new these days but it is still very trendy which is why we simply cannot skip it. This technology keeps evolving every day and we are constantly presented with more and more realistic-looking images and videos, as various textures are used to make the creations more vivid and tangible. Besides using these illustrations on your social media profiles and on billboards around town to attract attention, they can also be used at business meetings with your partners or clients. This will allow them to get a better idea of what the product actually is and decide whether it needs some improvement.
Using 2D and 3D Together
The 3D effect can be even more pronounced if combined with 2D images. There are many approaches to this method of playing around with different types of graphics. One of them is combining realistic 3D images and videos with flat elements, which creates an interesting effect. You can also mix live-action video with 2D graphics or some glowing scribble animations – this makes the videos more dynamic and eye-catching.
Introducing AR and VR
Augmented and virtual reality technology presents us with many opportunities for interesting graphic design. They allow potential customers to experience brands in new, three-dimensional ways and investors to decide whether they are interested in the company. For instance, there is 3D AR tech that can add more information to simple printed graphics. Then, we have Apple that used AR-based Memoji to advertise Apple Music with the help of some popular artists.
Customizing the Design and Illustrations
Companies are deciding to invest in custom illustrations that will help their branding efforts. This approach is amazing because it can be applied both in the digital and offline world. For example, getting an experienced designer to create a short animation for your brand that you can use across all platforms is not something that everyone can and will do, so it will make you quite unique. However, you can also hire an artist to change your whole product packaging design as well as your flyers, billboards and videos.
We can definitely expect some new trends to emerge during these last few months of 2019, but these eight are sure to keep going strong the following year. So, remember to focus on both your online and offline efforts, look for a unique font and color scheme for your brand, and make the most of the 2D, 3D and AR/VR technology.