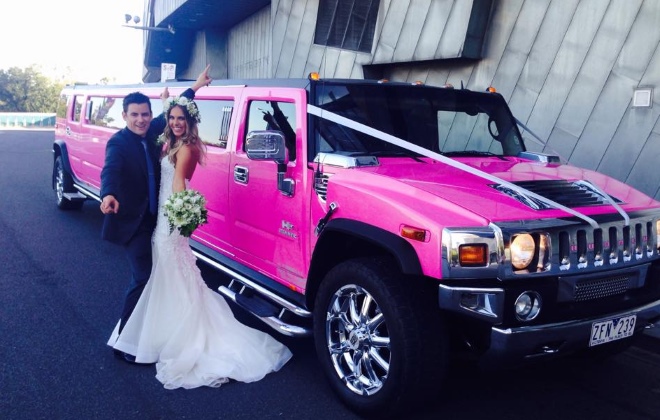 Hummer Limousine rental services allow people to get that little taste of the rich and famous for as long as you want. They are amazing for weddings as well as other special occasions. Limousines are most times status symbols for well known people, but these days they are accessible to anyone through limo rental services. On wedding days, they are the best way to arrive at the ceremony site or the reception site. If you are interested in using a limo when it comes to the big day, you have many designs to select from.
Hummer Limousine rental for the wedding - Wedding are the perfect time to rent a limousine. If there is any time ever in life when you really want to feel just as a celebrity, the weddings are the best time to do that. Using limo hire companies will increase the wedding budget to some extent, but it is can worth it when you do not have to be concerned about transportation on the huge day. Limos are as well an ideal option for weddings since they give your bridal party enough space to comfortably move from one place to another. Taking into account the size of many wedding dresses, the very last thing the bride will want to do is to crowd in a car and ruin the dress. Imagine the comfort of not worrying about the person who will be driving and how you will be moving from destination to the other. You will see why many people making that step in life choose to hire a limo.
Selecting the right limo – many years ago, choosing a limousine was just a choice between the black limos or a white limos. However, the manufacturers have today filled the market with so many different options which can make selecting the right limo a good experience. If you need to go for that classic look, that classic style limousines are available. These limos are extended sedans that can manage anywhere from five people to fifteen people.
But, your options are not limited to the classic style limos when you are planning your limo rental. One of the most used types of new limousines today is the Hummer stretch limousine. Hummers are big SUV cars with large decorated wheels. They fit around 20 passengers and are a wonderful option if you have a big wedding party. But, they can be difficult for the bridesmaids and the bride to get into with their nice dresses.
The Chrysler limousines are another well loved choice today. The Chrysler limo is similar to a Bentley in design and looks. A Chrysler is an elegant look for a trendy wedding day. There is as well many other very luxury styles of limousines you can select from, depending on the Hummer Limousine Company are hiring the limousine from.
Booking the limo - When getting in touch with the limo hire provider to get your quote, be sure to tell how many people you will be transporting in the limo. You can too ask the limo company about other special additions to the limo. You would be surprised at the number of perks and additions you can get in limos. Everything you can think about from portable bars to televisions to a good sound system is provided with modern Hummer Limousine rentals.
Conclusion
Hummer Limousine hire is a great choice for the wedding as well as other special events. This vehicle is a status symbol for the celebrities and the rich but the limo rental services have made it possible to everyone.