Lyst, the world's biggest online fashion site
Written by

Camilla Clarkson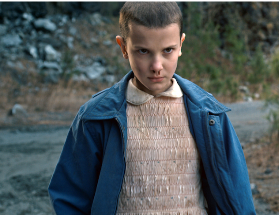 Everyone's dressing as Eleven (or Barb) for Halloween
Lyst, the world's biggest online fashion site, is calling this year's most popular costumes based on global search and sales data.
There's still a month to go until Halloween, but the savviest shoppers are already sourcing their costumes online. In fact, searches for 'Halloween costume' began gaining momentum in mid August. Using global search statistics from Google, as well as Lyst's own data on specific product and category page views and sales across thousands of online stores, here's eleven stats that back up why Lyst predicts everyone will be dressing as a Stranger Things character this year.

1. This pink Peter Pan collar dress was viewed once every 3 minutes on Lyst last week.

2. 80% of people who searched 'pink collar dress' over the same seven days also searched for 'tube socks'—yes, really.

3. Sales of tube socks have increased 34% in the last month.
4. Blue jackets have also seen a huge spike in searches with this one being the most popular, receiving 89% more views over the past four weeks than the preceding month.

5. 271 people have typed (just) 'Barb' into the Lyst search bar since the beginning of August.

6. Page views on Barb-style ruffled and pussy bow blouses are up 42% compared to this time last month.

7. More than 3,000 people have searched for a 'gingham ruffle shirt' (they're pretty hard to find, but this Vetements dress is getting extra traffic from the Barb-hunters… it's now sold out in the UK.)

8. This article on Barb-inspired nerd glasses was the most viewed editorial piece on Lyst last week.
9. We're blaming Dustin (and maybe Ash from Pokemon) for a 116% increase in searches for mesh trucker caps in the last two weeks.

10. Retro sleeveless vests—channeling the 80s puffer down styles seen in Stranger Things—have registered a surge in searches (up 24% month on month) with blue and brown styles garnering most product clicks.

11. Although it's still unseasonably warm, there has been a 223% hike in searches for shearling jackets compared to this time last year. You have Nancy's fighting gear to thank for that.
Shop the best pieces to recreate Eleven, Barb, Nancy and the boys' looks here.


About Lyst: Lyst is the world's biggest fashion shopping site, connecting millions of shoppers globally with over 12,000 designers and stores online. With an inventory of over 3 million fashion products and access to 4.5million changing fashion data points every hour, Lyst is a groundbreaking new way to shop for fashion, plus the definitive source of global fashion intelligence.