Make your dreams come true with a fairytale wedding venue
We all have an image in our minds of a wedding that seems more fairytale than real life. We think of long, winding staircases, covered with billowing flowers, wooden dance floors large enough for each and every one of the guests to dance away and celebrate, and a beautiful bridal table. We want our weddings to have the most stunning, ethereal décor – fit for a princess, no less. On our special day, we want everything to be immaculate. The clothes, the food, the décor and the location, everything needs to be just perfect. After all, this is one of the most special moments our life and marks the moment where we begin a new phase of life with the person that we love. Wedding practices are often unique to the couple, and the wedding ceremony is always highly personalized with the couple often incorporating a personal touch to the entire wedding, even into the vows.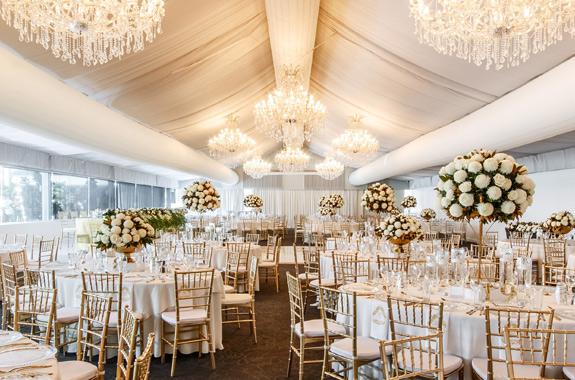 However, planning a wedding can be one of the most stressful things to do, and inexperienced couples can often end up making decisions that can mean that their big day turns into a big disaster. One of the biggest mistakes that can be made is choosing the wrong venue. Reception centers can be the best way for the couple to ensure that the wedding is just the way they want, and is as safe as possible.



No unforeseen hitches.


One of the biggest problems that couples may face should they rent out a private venue is that in the food and service. When we hire a venue, we get just the location, not any chefs or waiting staff. First of all, this presents the hassle of locating reliable caterers who can provide good quality food. No one wants their guests or themselves to be left waiting on the food or getting bad service from the waiting staff. In addition to this, even the most reliable of staff can fail at a totally new location, as they are not accustomed to the new place and may mess up either in terms of logistics or may make the food turn out bad. Conversely, in a reception center, not only are the waiting staff and the chefs provided by the banquet hall, but they can ensure that you suffer no unforeseen hitches and that the event goes smoothly, with the best service.



Budget friendly.


No matter how big or how small our budget is, we want our wedding to turn out the best it can possibly be. We want every single service to be great, from the décor, to the food and the waiting service. Yet, those on a smaller budget can find that planning the wedding of our dreams on a smaller budget can be quite a hassle. We can have to rent out a venue, catering services and décor all separately, which can ultimately amount to quite a lot. In addition to this, we can never be sure that the services we have ordered will turn out right. When hiring a reception center Melbourne, we can find that all services come with the gorgeous venue, and that the great services are all within our budget, with no additional charges.



Banquet halls of our choice.


Nowhere, apart from a banquet hall can we get the spiral staircases and the dance floors that we have always wanted at our wedding. Open air weddings can lack the touch of elegance and customization that we can only get at a wedding hall, and, what's more is that they can lead to a ruined wedding if weather conditions unexpectedly turn bad. Furthermore, we can rent out a banquet hall at a reception center Melbourne at just the size that we need – small, medium or large, depending on the size of the gathering – so that the wedding seems perfectly planned.
Lakeside receptions can provide beautiful and elegant wedding halls in various sizes for grander or even more intimate affairs. Their wedding halls come with gorgeous views, fit to make the fairytale wedding that we all want, and they can provide great décor and food as well. With everyone having such high aspirations for their wedding, it's always better to be safe and pick a reception hall and save ourselves the stress and the hassle.