4 Tips When Shopping for an Engagement Ring Together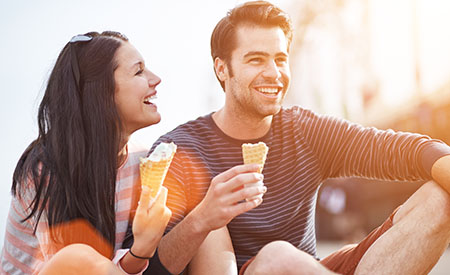 According to a 2017 study conducted by leading wedding online resource The Knot, 1 in 3 couples is veering away from tradition by going shopping for an engagement ring together. We can't think of a single reason why you shouldn't, either—going shopping for such an important item together can relieve some of the pressure and anxiety that people usually associate with the purchase.
To help you with the task, below are a few helpful tips to keep in mind before you and your partner hit the jewelry stores:
Keep the communication lines open.
There are many reasons why couples might choose to go engagement ring shopping together. One of the most common motives cited is mutual satisfaction with the purchase. Sharing the burden of such a significant undertaking can take the edge off of one party, and the wearer gets to go home with a ring that they love. It's a win-win!
As with any joint purchase, maintaining good communication is an absolute must here. Speak up if you would much prefer an engagement ring with a sapphire center stone instead of a diamond one, or if you have any concerns about how the ring design can affect your daily life. Don't be afraid to say "no", either; putting sensitive-seeming but essential topics such as the ring's cost on the table can go a long way towards making the process as smooth and painless as possible.
Agree on a budget.
Speaking of the cost, it could be a good idea to talk about how much you're willing to spend before even pulling up engagement ring websites or heading out to the shops.
An engagement ring is no small expense to make. Do away with antiquated beliefs about it having to be worth as much as an entire month's salary. Having an honest and open conversation about what you can realistically afford to spend on a ring is a great step towards ensuring that you both make sensible and responsible fiscal choices going into your marriage. It can also eliminate the disappointment of falling in love with a ring at first sight only to find out later on that it's beyond what your partner can afford. Jewelers are often more than happy to work with whatever number you give them.
During this conversation about the budget, you may also wish to talk about whether you'd be willing to split the cost of the ring. Many soon-to-be engaged couples are willing to share the expenses, so there's no reason why this shouldn't be an option. By pooling your resources, it could be easier to obtain the ring your heart truly desires while helping your partner stay within the budget.
Do your research.
The reason why most people feel anxious about buying an engagement ring is because it can be a surprisingly complicated process. There are numerous considerations to be made, and the seemingly endless amount of options can be extremely daunting. Doing research ahead of time and having a general idea of the perfect ring in mind can help you narrow down your choices, which in turn alleviates the nerves. With the budget set, you can start looking at ring styles, designs, center stones, and settings, as well as metals and additional features, such as accent stones.
Research can also lead you to the right jeweler for your ring. If you have any special considerations such as a preference for conflict-free gems or recycled materials, finding a shop that offers these can save you time and minimize confusion.
Make it a collaborative process.
Choosing the engagement ring together can make the process more meaningful, even if only one of you is going to wear it. Allowing your partner to offer suggestions and considering their preferences makes them feel included and shows that you care about what they think.
Shopping for your engagement ring doesn't have to be a chore.
Going shopping for an engagement ring doesn't have to be stressful. You're getting engaged! There are few better excuses for celebratory drinks or a nice meal. Turn your shopping spree into a celebration that will become a wonderful memory that you can look back on fondly as a couple.