Queensland Food & Wine Events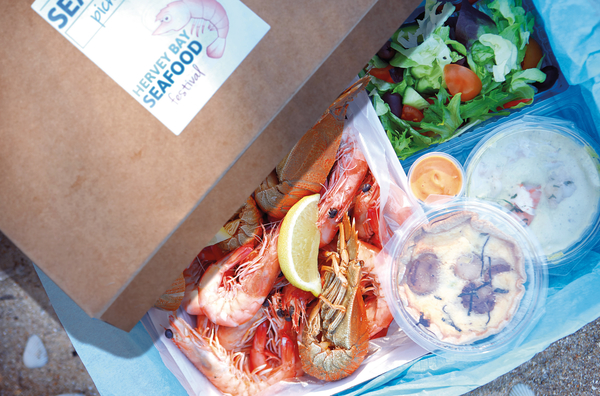 The Sunshine State might be most often thought of for its stretches of pristine beaches, but it's also home to an abundance of local produce that's been grown, caught, baked and served by an array of clever clogs and inspired minds. Take your love of food to a new level in 2016 with this list of gourmet food and wine festivals from the river bank of Brisbane to the northern tip of Port Douglas.
January
Ginger Flower & Food Festival 22-24 January, Yandina
The Ginger Factory Yandina comes alive for the weekend-long Ginger Food & Flower Festival, surrounded by Australia's largest and most ornamental gingers and heliconias, all under one roof. This year the festival celebrates its 20th birthday with a line-up of local kitchen maestros and gardening experts.
March
Stanthorpe Apple & Grape Harvest Festival 26 Feb - 6 Mar, Stanthorpe
The Stanthorpe Apple & Grape Harvest Festival turns 50 in 2016 and, as one of Queensland's longest running events, continues to celebrate the harvest of this well-known Southern Queensland food and wine region. More than 60,000 visitors make the journey to this biennial festival which launches with a street market and the switching on of the carnival lights, followed by ten days of events. A highlight of the festival will be the Grand Parade packed with floats, flags and local and visiting bands. The theme of the 2016 festival is "When in Rome" where we're pretty sure they like to enjoy a wine or too as well.
Feast of the Senses 12-20 Mar, Innisfail
Discover North Queensland's premier tropical food event that engages every one of your senses! Over 10 amazing days, this region's abundance of exotic tropical fruits, produce, seafood and meats will be on show and include farm trails, art, and photography, cooking competitions and the piece de resistance - a market day extravaganza on 20 March - with Innisfail's art deco architecture providing a fitting backdrop.
Gold Coast Italian Festival 26 – 27 Mar, Gold Coast (Various Locations)
Savour the tastes, sights and sounds of Italy at the first annual Gold Coast Italian Festival. From fine food, Italian wines and family entertainment, the festival will celebrate all the best about the dolce vita culture. Street vendors will be slinging wood fired pizza, pasta and gelato.
Kenilworth Cheese, Wine & Food Fest 26 Mar, Kenilworth
A day out for the whole family, the Kenilworth Cheese, Wine & Food fest celebrates the best produce from the renowned Mary Valley. There's something for everyone with cheese making demonstrations for the foodies, a Chester Egg Hunt and a cheese rolling competition for the young at heart. Market stalls offer a variety of local produce.
April
Felton Food Festival 10 April, Felton
For one day, Felton throws the spotlight on the delectable produce, stunning landscape and the people that make this region so vibrant. For a taste of real country living, families, farmers and food lovers are invited to mingle through markets, take a crop tour, meet a local farmer and learn more about the paddock to plate concept. Special guests this year include Matt Golinski, Alison Alexander and for the first time Wild Canary Head Chef, Glen Barratt.
May
Hampton Festival 15 May, Hampton
Pack the thermos and make your way to this picturesque hamlet to join this celebration of creative culture, regional produce and gourmet industries for the 14th annual Hampton Festival. Food enthusiasts, families and keen explorers will all find something to entertain – cooking demonstrations from some of Queensland's most well-known chefs, live art happenings from the Artists in Residence program and a fresh produce farmers market.
Paniyiri Greek Festival TBC May, Brisbane
If honey puffs and haloumi aren't enough to get you down to Musgrave Park for this two-day extravaganza, then we're not sure what will. Sit in the sunshine and let the good times roll as the annual Paniyiri Greek Festival brings people together for traditional Greek eats, dancing and a plate-smashing good time!
A World Apart 28-29 May, Scenic Rim (Multiple Locations)
Let those in the know about the beauty of the Scenic Rim take you on a food and wine discovery tour. Within the stunning Mt Barney Valley, each location along the tour will offer explorers the chance to sample local and homemade fare including Barney Creek wines, bush tucker tastings, homemade fruit sorbets and hand-assembled hampers.
Goomeri Pumpkin Festival 29 May, Goomeri
It may have started as rolling pumpkins downhill for a laugh, but 20 years on, this annual festival still attracts a crowd of thousands to celebrate the humble pumpkin. Street markets, whip cracking, pumpkin bowls, decorated pumpkin du
June
Relish Fraser Coast 4 Jun, Fraser Coast (Multiple Locations)
A feast of culture and cuisine is served! Immerse yourself in Maryborough's heritage streetscapes and riverside parks for the Relish Fraser Coast and their jam-packed program of celebrity chefs, gourmet tastings, cooking workshops, live music and art. True foodies will have the chance to try Hervey Bay's famous scallops, Fraser Island prawns and macadamia nuts all paired with wines from Queensland's premier wineries.
Eat Local Week 25 Jun – 3 Jul, Beaudesert (Scenic Rim)
What better way to sample the abundance of fresh products of the Scenic Rim than at Eat Local Week? Experience the food and wine of the region all within one-hour of Brisbane with a variety of events including country markets, cooking schools, degustations, tasting tours and more. Join Eat Local Week Ambassador QAGOMA Executive chef Josue (Josh) Lopez and discover the benefits of source food that's in-season and close to the source.

July
Regional Flavours 15-17 July, South Brisbane
South Bank's signature food and lifestyle event returns in 2016 with free entertainment, celeb chefs and industry experts as well as fresh produce from more than 80 Queensland providores. Within eight unique venues, the food lover in all of us can experience al fresco dining, expand our culinary knowledge and sample some of the state's best artisanal food and wine. Gather a group and take advantage of the South Bank views to eat and enjoy a few of life's simplest pleasures.
August
Hervey Bay Seafood Festival 14 Aug, Hervey Bay
A festival to celebrate wild-caught seafood from the pristine waters of the Fraser Coast. Escape for a warm wintery weekend and tempt your tastebuds with an ultimate seafood menu at the festival's signature Tastes of the Bay long lunch with Chef Andrew Mirosch. If that doesn't take your fancy, navigate a DIY feast at the array of seafood stands serving the iconic Hervey Bay scallop, prawns and fish by local restaurants. Either way, no one is going home hungry!
Taste Port Douglas 12-14 Aug, Port Douglas
Welcome to Taste Port Douglas! An event to celebrate the culinary highlights of this Tropical North Queensland haven and to explore its thriving restaurant and food industry. With a weekend program packed with local produce, producers, chefs, cooking demos and food stalls, Taste Port Douglas is one to mark in the diary.
October
Taste of the Tablelands 16 Oct, Atherton
The Taste of the Tablelands will give eager foodies insight into the best the region has to offer. From locally produced fruit, vegetables, cheese, chocolates, wine and coffee, it's a day to tease and tempt all of the senses. The highlight of the day will be the Chef's competition where the best chefs and apprentices from across the Far North battle it out in a cook-off using a mystery basket of local produce.