Best Start to the 2016 Whale Season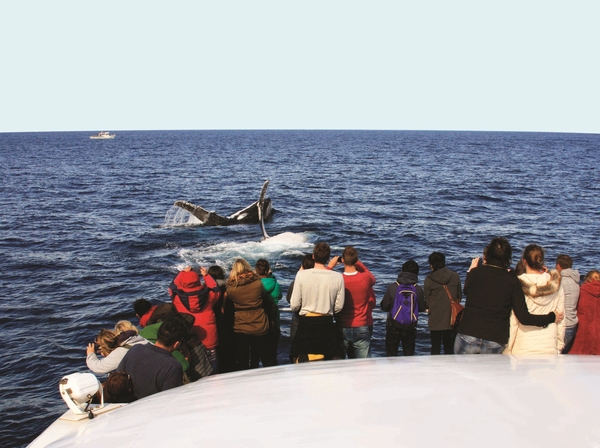 2016 has seen the most amazing start to the whale watching season with Captain Cook Cruises reporting Whale sightings are up by 20% from last season and up to 20 Whales are being sighted each cruise.
According to Ecological Consultant and Captain Cook Cruises Marine Commentator, David James, who has been working on Whale Watching cruises from Sydney for the last six years, it's not only the whale sightings that have increased but also the level of Whale activity.
"Humpbacks normally travel in pods of 1 to 3 whales and the bonds are temporary. This Whale season the number of pods sighted off Sydney have increased and they are travelling closer together. This has increased the social interaction between the pods, which for our passengers means much more spectacular behaviour." Says David.
"Normally we see a range of behaviours including pec and tail waving and slapping and spy hopping, but nothing excites the passengers and the crew more than a full breach.  This season we have followed calves who have breached continuously up to 20 times!
Only a few weeks into the season and we have been mugged twice. This is when a whale comes directly alongside the boat, and we are forced to come to a complete stop. We never get closer to a whale than during a mugging, which normally don't happen until later in the season when the breeding has finished.
In June we were fortunate to see a whale lunge feeding which is an extremely rare experience off Sydney. Humpback whales are filter feeders and do not normally feed during migration.
During another cruise, one female Humpback attracted an escort group of 5 males. The female was swimming at high speed with the males jostling for position, to the extent they were riding up on each other's back." Continues David.
It's not only Whales that are seen on the cruise. There are occasional seals, albatross and even our favourite fairy penguins within the harbour. We regularly see up to 200 dolphins, but their numbers can reach up to 500 per cruise.
Captain Cook Cruises operate Whale Watching cruises throughout the Whale Watching season which runs until 1st November, 2016.
With a 95% whale sighting success rate, Captain Cook Cruises are offering a whale guarantee; if a whale is not spotted, passengers are offered the opportunity to cruise again for free.
Whale watching cruises are onboard ocean-going catamaran, "Maggie Cat", which can accommodate up to 200 passengers, but limited to a spacious 120 passengers for whale watching. Equipped with two passenger decks and spacious outdoor and indoor viewing areas, Maggie Cat offers spectacular open-air viewing and an all-weather lounge, ideal for the entire family. Snacks, beer, wine and soft drinks can also be purchased on-board.
Each cruise features live commentary from a highly skilled and knowledgeable team. 
Whale Watching cruises operate daily from Circular Quay Wharf 6, departing at 1.30pm and returning at 4.15pm. An additional morning cruise operates on Saturday and Sundays departing at 10.15am and returning at 1.00pm.
Visit www.captaincook.com.au for Whale Watching cruise deals starting from only $49 per adult, $42 for a child.
About David James
David worked in research for the College of the Atlantic, one of the earliest modern whale research organisations, and the New England Aquarium. In the 1990's he worked on expeditions to the Antarctic and Southern Ocean with the Australian Antarctic Division. He is currently an Ecological Consultant working on Whale Watching cruises ex Sydney for the last six years.