Not by Bread Alone: Varenyky As One Of The Staples Of Classic Ukrainian Cuisine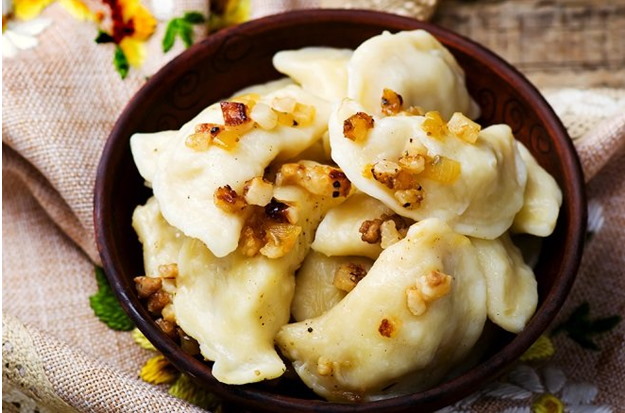 No matter what country you travel to or what restaurant you attend, there are universal dishes that will be obligatory present on the menu, manifesting the historical traditions and kinds of foodstuffs available to local cooks. We bet you guessed it: practically any cuisine features its particular kinds of bread and dishes made of dough, whether boiled, fried, baked, or steamed. The delicious part of this discovery is that if you compare such dishes across countries and continents you will never find copycats or fully identical recipes. Even regional varieties in one and the same country can be strikingly different. Individual communities have their taste preferences, locally widespread grain or cereals and other components, and of course, secrets to making the best bread, pancakes, dumplings, or pizza, for that matter. 
Ukrainian varenyky are a proud representative of this millennia-old food tradition, and at the same time they are the unmistakable sign that you've come to the hospitable and plentiful Ukrainian land. You can find many cousins of varenyky across the world, from Chinese baozi to Georgian khinkali to Indian momos. Yet each dish is special in its shape, method of dough making, fillings, and cultural meaning. So if you want to know what Ukraine is really like – try varenyky, tasty, nutritious, stuffed with healthy fillings and served with unlimited generosity and home-like care. 
What is so special about varenyky? 
Varenyky, in their essence, are dumplings with various fillings that are cooked by boiling or steaming and served with sides of sour cream, jam, honey or caramelized onions and bacon (depending on the type of filling). Varenyky can be rather big (like a regular sandwich) or bite-sized, depending on the local tradition. The signature look of varenyky is that of a crescent or a semicircle resembling the horned moon.
In the Ukrainian folklore, varenyky are mentioned as an offering to the moon in hope of ensuring sufficient rains for the crops and water levels in wells for people. They are also the symbol of fertility and propagation. For this reason, varenyky are the obligatory part of a ritual meal on the biggest holidays and family events, like the birth of a child. 
The traditional and modern fillings for varenyky
Fillings vary a lot from region to region, and even from season to season. Flour was the all-year staple of Ukrainian cuisine from times immemorial. Fillings depended on what was available in the pantry or on the land, from fresh fruit and berries in summer to dried beans and cottage cheese in colder months. Thus the set of traditional fillings that are historically accurate and the array of modern takes on varenyky that are amazingly tasty. 
Fillings can be sweet and savory, lighter in calories or hearty and filling. The key fillings to try that represent centuries-old traditions are boiled beans, millet, mushrooms, fermented cabbage (sauerkraut), cottage cheese (sweetened or salty), foraged berries like bilberries or cherries and poppy seeds. Potato arrived in Ukraine somewhere in the 18th century, so the iconic potato-filled varenyky are rather new on the traditional menu. 
'Must-try' types of varenyky 
Today, you can find practically every kind of filling in varenyky, from meat and fish to exotic fruit and unusual food combinations. But no matter whether you look for history or gastronomic delight, we recommend that you try varenyky with potato and caramelized onions, with meat, with sautéed fermented cabbage, and with salty cottage cheese as a main course and have varenyky with all kinds of berries like strawberry, bilberry and cherry for dessert. Savory fillings usually go with an additional helping of browned onions and crispy bacon bits, and sweet ones need a side of honey, melted butter or a dollop of chilled sour cream. 
Order them in a historically decorated restaurant, a Ukrainian take-away or make them at home. In any case, the result will nicely surprise you and please your palate. 
Smachnoho, or Bon appetite!