Navigating Cold Weather in a Campervan
Written by

News Feature Team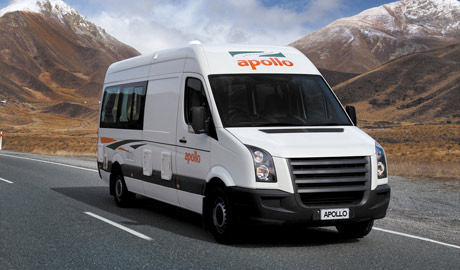 Loads of people love the idea of cruising through the great outdoors with the family, but hitting the road in a campervan in frigid winter is a little daunting. However, there are plenty of pros to this mode of travel in conditions others would shy away from.
Tasmania is regularly the place of campervan journeys, with New South Wales and eastern Victoria also making the list of popular holiday destinations. As cold as these areas may be in the winter, the rewards can far outweigh the costs, but there is no denying that there are a few real challenges.
Campervan Challenges
Campervan hire in Australia in the winter can put many people off. It can get pretty cold in an unheated van, especially if you are not parked in a powered park site and aren't able to plug in an electric heater. How cold? In some areas, temperatures in a van can drop to between zero to five degrees, so it can feel like you're living in a fridge. Coastal areas are usually milder if you'd prefer to hit the coast for your next trip. As a rule of thumb, on a calm night with the van's windows closed, the van can remain a few degrees warmer than outdoors, but in windier conditions, it can be very close to the outside temperature. You can, however, survive happily with plenty of warm clothing and a good quality sleeping bag.
Navigating Icy Roads
Most of the roads in Australia do not get affected by snow or ice, but if you head off to the mountainous parts of the south-east or Tasmania during the winter, there is the chance you will come across roads that are closed by now, or that have a layer of slush, ice, or slippery gravel. These conditions can impact how much of the countryside you will get to see, particularly in a hired van. You'll find that car hire companies tend to impose restrictions on gravel roads, and even travel to snow-prone areas during the snowy season, regardless of whether there is snow.
It Can Take Time to Get Going
On cold mornings, the van's windows can become wet with condensation or even frosted. This can take a fair amount of wiping and scraping, while the engine is running to keep the heater going. It can take a while before the windows are clear and the van is ready to hit the road safely. This can also happen to cars in cities, but when you're touring the colder places in a campervan, you'll find it is a more regular occurrence. It's not a particularly big deal, but it can make it harder to make a quick getaway. If you don't get going quickly (and do you really want to rush on holiday?), then you'll find it a minor nuisance. Instead, park in the sun and let nature defrost the windows while you enjoy a leisurely cup of coffee and plan your day of adventure.