A Brief Insight of the Australian Health Industry: Defining Various Sectors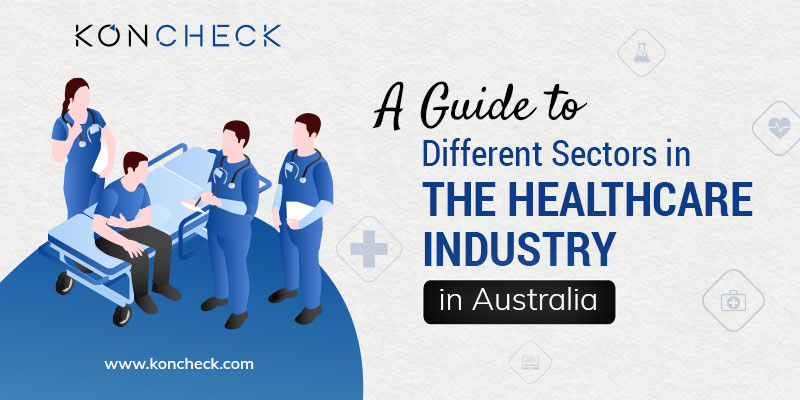 The healthcare industry is the largest employer in the Australian market, employing almost 1.7 million people in 2019. Currently, one in eight Australians work within this industry. According to the Healthcare Industry trends, the highest proportion of the workforce is presently occupied by Aged and Disabled Carers and Nursing Support and Personal Care Workers.
In this blog, we will provide you with a brief overview of the sectors within this industry and how they function. 
The healthcare industry is mainly comprising of sectors including:
Aboriginal and Torres Strait Islander Health Workers

Enrolled Nursing

Ambulance and Paramedics 

Dental

Direct Support and Client Care 

First Aid

Complementary Health

Technician Support Services 
Aboriginal and Torres Strait Islander Health Workers
Aboriginal and Torres Strait Islander Health Workers play a significant role in the Aboriginal and Torres Strait Islander community by solving health-related needs. They mainly work in collaboration with clinical health practitioners and other health workers to make sure the conditions are met. 
Skills like teamwork and communication, along with the problem-solving approach and self-management is highly required to get a job as an Aboriginal and Torres Strait Islander Health Worker. Job roles like Aboriginal Health Worker, Aboriginal Mental Health Worker, Hospital Liaison Officer are in demand in this sector.
Enrolled Nursing
Enrolled Nurses play a crucial role by providing care and treatment under Registered Nurse's supervision. To be an enrolled nurse, a candidate must complete the educational and clinical requirements for the Diploma of nursing program. Only then can they enrol in the Nursing and Midwifery Board of Australia (NMBA) for registration. 
The demand for this job role is pretty high in both the public and private sector. More than half of the workers are placed in hospitals, and a good number of them are placed in the Aged Care Residential Service Industry. 
Communication skills, social intelligence, computer literacy, learning agility are some of the essential skills employers are looking for. 
Ambulance and Paramedics 
The ambulance and paramedics sectors help to deliver pre-hospital as well as out of hospital services in both emergency and non-emergency situations. Latest information suggests that volunteering is a significant practice, especially in ambulance service. 
The top skills needed by employers in the sector are problem-solving and written communication, according to the job vacancy data. The leading employers are the Government of New South Wales and the South Australian Government.
Dental
The primary responsibility of this sector is to provide related specialised and general services. The healthcare Australia workforce involves both registered and non-registered workers, and the prominent job roles include but are not limited to operational, assistance, management activities. 
Dental services are provided to both public and private hospitals; however, this sector mainly operates as an independent, small private sector. The industry is expected to grow moderately in the next five years, according to the government labour portal.
Direct Support and Client Care 
This sector offers multi-dimensional job roles which include multi-skills. This sector has several sub-sectors including; 
Aged and Home Care

Mental health 

Disability

Alcohol and other drugs 

Allied Health Assistance 

Leisure and health

Health support services 

Health services assistance 
All the sub-sectors are projected to grow in the next five years, where the Aged and Disabled Care sector is dominating by expecting to grow more than 25%. 
First Aid
It is the service provided to a patient until more care has been taken. A large number of people in Australia complete First Aid training, some for personal development and some to meet the professional requirements. 
First-aid services apply to all industries. All Australian companies have jurisdictional responsibilities surrounding job health and safety or occupational health and safety. According to the job vacancy data, mostly pre-primary teachers, child carers, welfare support workers seek first-aid skills training. 
Complementary Health
Complementary health comprises services like Ayurveda, Aromatherapy, Reflexology, Shiatsu, Traditional Chinese Medicine etc. Generally, small businesses operate within the complementary health areas. More than 80% of the business centres around New South Wales, Queensland and Victoria. 
According to the government job portal, occupations like Massage Therapist, Dietician, Naturopathy are in maximum demand.  
Technician Support Services
Technician Support services are a diverse workforce which consists of many sub-sectors. Starting from anaesthetic, cardiac technology, hospital pharmacies, operating theatre support to pathology, sterilisation and so on.
https://nationalindustryinsights.aisc.net.au/industries/health/technicians-support-services