Swim With Humpback Whales at Ningaloo Reef in 2016
Written by

Suzanne Fisher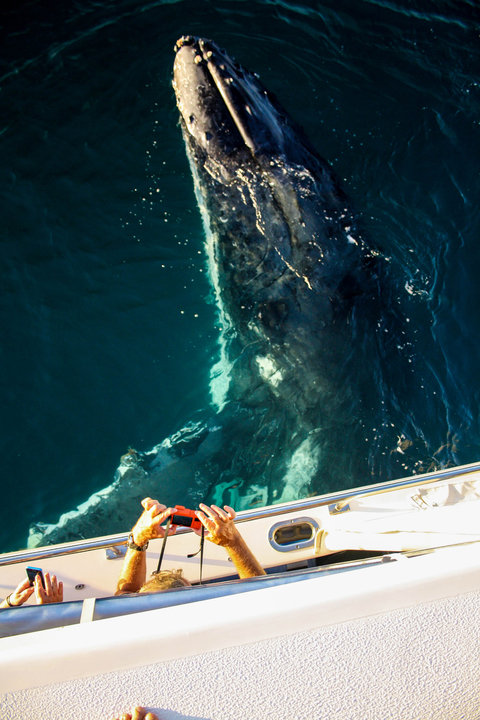 Swimming with humpback whales will become a reality from mid-2016 in Exmouth and Coral Bay on Australia's Coral Coast in Western Australia. Several countries, including Mexico and Tonga, already have the tours in place with Queensland becoming the first Australian tour location in 2014.
Existing holders of whale shark licenses will be offered the opportunity to operate the whale swimming tours which will allow them to extend this season into the humpback migration. Already a popular pursuit, 20,670 people visited the Ningaloo Reef between March and July 2015, specifically to swim with the world's largest fish – the whale shark.
Ocean Eco Adventures owner, James Small, conducted whale watching tours for 3,000 passengers in 2015 to experience the humpback migration on board and he hopes "to continue this [whale watching tour] as well as building a successful and sustainable whale swimming experience".
Whale shark operators' have vast in-water interaction experience with large marine animals and will receive additional training and guidelines from WA's Department of Parks and Wildlife (DPaW) in advance of the season opening. Whales have unique movement patterns and for this reason a tour participant will only be allowed to interact with single whales, not accompanied by calves.
Tour operator Roger Bailye of Coral Bay Ecotours anticipates that "to fully participate,  tourists will require a high swimming capability as whales, in general, are more agile and faster moving than whale sharks. People will continue to have the option to stay on board as a viewer at a reduced rate".
Tourism industry members in Ningaloo have said that news of the trial period has already captured the imagination of people looking for unique and exciting experiences. The new tours will extend the whale shark season, which traditionally finishes around July. They will offer a significant boost to the Ningaloo area's economy, as well as the wider Coral Coast region and the state of Western Australia.
CEO of Australia's Coral Coast, David O'Malley, said "I am keen to see the [humpback swim] trial result in this tour product being developed as a major, permanent attraction of the Coral Coast."
Tour price and bookings will be set in the first quarter of 2016 between DPaW and the 11 whale shark operators. Operators have already started considering what be included as part of their swimming tour. Sarah Ellis, owner of Charter 1, has already committed their 53ft sailing catamaran for the humpback swimming tour with operators considering the inclusion of complimentary underwater photography and spotter planes as part of the ticket price.
Visit www.australiascoralcoast.com to help plan your next Coral Coast adventure.