Explore Sydney like a Super Hero this Summer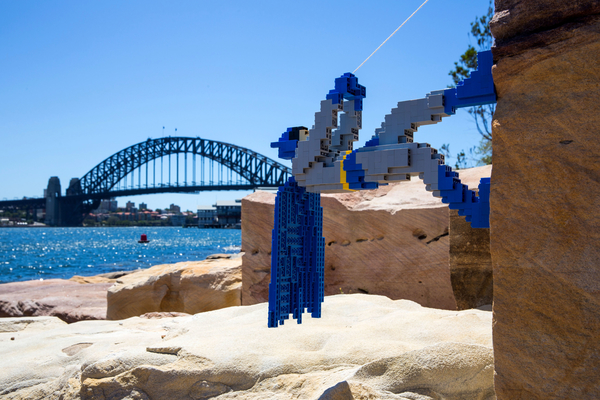 To celebrate the world premiere of The Art of the Brick: DC Comics, the latest exhibition from renowned New York LEGO® brick artist, Nathan Sawaya exclusively at the Powerhouse Museum, Destination NSW has prepared a list of super hero thrills and adventures visitors can experience in Sydney this Summer.
Destination NSW CEO Sandra Chipchase said: "Justice League fans and LEGO lovers need to get to Sydney this summer for the world premiere and Australian exclusive season of The Art of the Brick: DC Comics which opens this weekend at the Powerhouse Museum.
"Sydney is a city that offers visitors the chance to fly, climb and dive, so it's the perfect destination to host the world premiere of this innovative exhibition, showcasing iconic DC Comics heroes and villains in LEGO form in our iconic harbour city."
For a gallery of images of LEGO Batman and Robin exploring Sydney visit: http://www.destinationnsw.com.au/news-and-media/media-releases/explore-sydney-like-a-superhero-this-summer
Here are Destination NSW's tips on how to explore Sydney like a super hero:
Wonder Woman - Fancy yourself as a fit, fun and fearless Wonder Woman? Build your core strength at one of Sydney's stunning beaches and bays with a Stand Up Paddle Boarding session. Classes are available at Bondi, Watsons Bay and Rose Bay through Bondi SUP. 
Being a super hero can be exhausting! For some essential rest and rejuvenation The Day Spa at the Langham Hotel offers a Perfect Gold Massage which leaves guests covered in cream containing 24 carat-gold particles. To experience what it's like to fly like Wonder Woman, try indoor skydiving at Penrith's iFly who offer a truly exhilarating and rewarding adventure.
Superman - For a superb bird's eye view of the Harbour City visitors can climb one of the world's well-known and photographed landmarks, The Sydney Harbour Bridge, with BridgeClimb. To up your Superman game and see the city from a different perspective, the Sydney Tower has a panoramic 360-degree view from the Pacific Ocean to the Blue Mountains. And if that's not enough The Skywalk in the fresh air 16 meters above the Observation Deck will give everyday heroes an adrenaline rush they'll never forget.
Batman – Sydney in Summer doesn't always have to be picturesque views and beaches. Marble Bar on George Street offers the perfect escape from the sunshine and idyllic space to unwind. Visitors can turn the dark underground and moody interior into their very own batcave. For more of a Bruce Wayne inspired evening indulge in liquor and lobster at The Rook rooftop bar on York Street or try Sydney's new Whiskey Bar J&M at the historic Angel Hotel. To practice your climbing skills, Sky Climb Alexandria takes climbing to the next level with disco lights, Tetris-themed walls and adrenaline drops some very handy skills for a hero in the making.
Harley Quinn – Feeling bubbly, crazy and madly in love like Harley Quinn? Explore the wonder and wild rides of Sydney's iconic playground Luna Park Sydney. If that's too tame, then for a truly insane experience jump out of a plane with Skydive The Beach Sydney and see the city from the sky. The drop zone for this heart-in-mouth, adrenaline-pumping free-fall takes place about an hour south of Sydney with return bus transfers included.
The Joker – Joke around and see some of Australia's best comedians in action at The Giant Dwarf, Sydney's newest comedy venue in Redfern. Follow it up with a more chilling and thrill-seeking experience in Manly and get up close and personal with the monsters of the deep with an extreme Shark Dive.  For an even darker, spookier experience, hear true stories of murder, hangings, hauntings and Ghosts with a Ghost Tour of the Rocks.
From world renowned New York LEGO brick artist, Nathan Sawaya The Art of the Brick: DC Comics is set to entertain visitors of all ages. It features the world's largest collection of DC Comics inspired LEGO artwork and sculptures such as super heroes and villains including Batman, Superman, Wonder Woman and The Joker, who will all be on display exclusively in Sydney.
Tickets are available here.
Visit www.sydney.com for more information.