Chinese New Year's Eve Banquet at the Hotel Windsor
Written by

Auzzi Shopping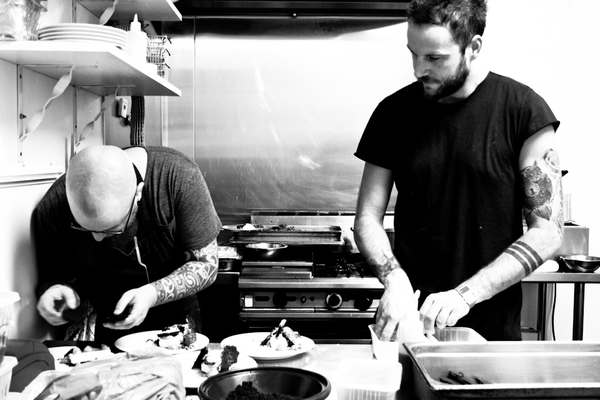 Borrowed Space collaborators, chefs Joel Alderson (Royal Mail, Attica, Brix) and Adam Liston (Cutler & Co, T8, Northern Light) will reunite to create a Chinese New Year's Eve banquet at The Hotel Windsor on Sunday, 7 February.
The banquet will showcase local Australian produce while incorporating the vibrant Chinese flavours and style of dining. On arrival, guests will be served "Eight Treasures", a unique selection of Asian influenced appetizers including highlights of: Braised Chinese white radish and black fungus, oyster sauce and sesame; Spring roll of Flinders Island wallaby, spiced blood plum; and Scallop toast under a veil of lardo and chamomile.
These will be followed by eight-courses served banquet style, which encompass: Roasted bone marrow, Szechuan glaze, crisps of potato and chicken skin; Crisp barramundi, chilli, sesame and saltbush; Egg noodle, spanner crab, ginger broth, golden egg and caviar; and Pandan donut, white chocolate and lychee.
Housed in the beautiful Grand Ballroom at The Hotel Windsor, guests will be invited to sit in traditional Chinese "banquet style" on long tables, where they will be able to experience one of the world's oldest cultures in Australia's only surviving Victorian era grand hotel.
Sommelier, Ainslie Lubbock (Royal Mail, Attica, Cutler & Co, Pei Modern Melbourne), will work closely with the chefs to match each dish to a selection of beverages including unique Australian wines and Chinese herbal teas.
Executive Chef Joel Alderson, commented: "Adam, Ainslie and I have worked with one another for many years and we're all very much looking forward to showcasing our banquet menu for one night only in celebration of Chinese New Year, it should be a fantastic evening."
Talented Chinese musician, teacher and composer, Meng Wang, will also accompany the evening's exquisite food offering with an authentic performance, which will be uniquely paired to each course. Wang has played at several international music festivals and collaborated with musicians worldwide, and will be performing with Regurgitator at NGV for the closing of Andy Warhol and Ai Weiwei's exhibition.
Director of the Windsor, Adi Halim, exclaimed that: "The Hotel Windsor is an important part of Melbourne's heritage and we couldn't be more excited to be creating our own unique Asian inspired menu and being actively involved in this year's City wide Chinese New Year celebrations."
The Chinese community has been a strong part of Melbourne's social fabric for more than 160 years and The Hotel Windsor is delighted to be a part of this year's New Year celebrations which not only have meaningful significance for the Chinese community, but also to Melburnians and tourists alike. Following decades of annual celebrations in Chinatown, this year will see the festival encapsulate the whole of Melbourne with activations stemming from the heart of Chinatown to Federation Square, along the Yarra to the Docklands.
Councillor Beverley Pinder-Mortimer, Chair of Marketing Melbourne Portfolio, said Chinese New Year is always a time of great joy and excitement, and enormous goodwill.
"In Melbourne, Chinese New Year celebrations are always very special and I welcome The Hotel Windsor's tremendous efforts as part of the Festival's 'whole of Melbourne' approach in 2016," Cr Pinder-Mortimer said. "Melbourne's Chinese New Year Festival is another example of our extraordinary cultural diversity, of which we are very proud.
"Chinese New Year celebrates the very best of Chinese culture and I encourage all Melburnians to take the time to explore and experience the 2016 Festival."
Date: Sunday, 7 February 2016
Time: 6:30pm – 10:30pm
Ticket price: $238pp
Location: The Hotel Windsor, Grand Ballroom
Website: http://www.thehotelwindsor.com.au/
Notes to editors
Visit www.thehotelwindsor.com.au for more information or you can also join in the conversation on social.
Facebook: https://www.facebook.com/TheHotelWindsor
Twitter: @Hotel_Windsor
Instagram: @Hotel_Windsor #HotelWindsor
For accommodation enquiries or reservations:
To make a reservation at The Hotel Windsor you can email reservations@thw.com.au or call to make a booking directly.
General enquiries: +61 (03) 9633 6000 | Accommodation: +61 (03) 9633 6002 | Afternoon tea and restaurant reservations: +61 (03) 9633 6004