How To Wear Chinos This Summer: The Ultimate Guide
Chinos are the ultimate staple clothing item that every man should have in his wardrobe. They are the most versatile trouser as you can dress them up for formal occasions but also dress them down for a more relaxed, beach-friendly look. And, because they are lightweight they can be worn throughout summer in the utmost style.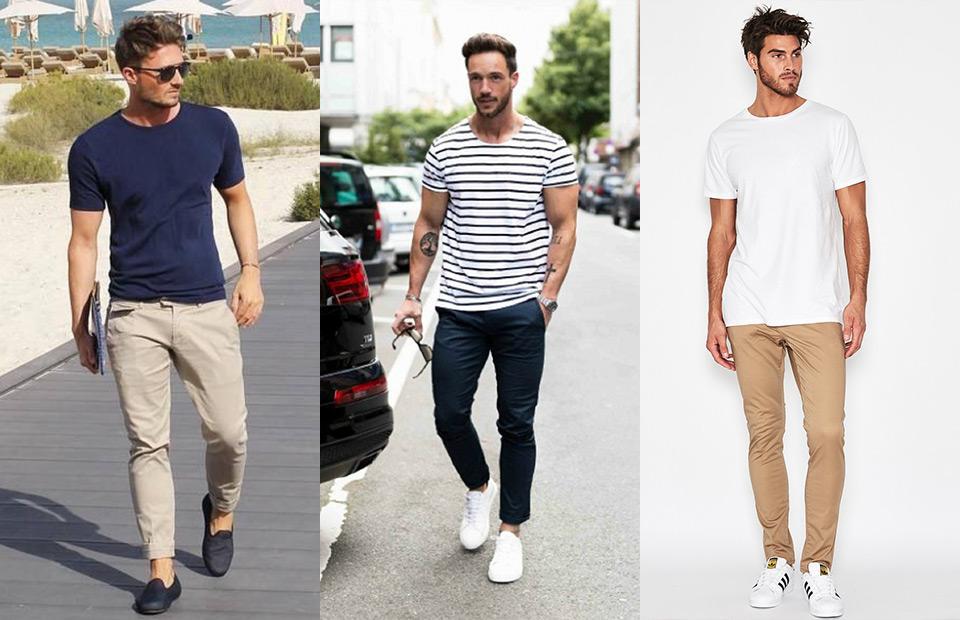 If you are yet to get on the chino hype and want to know a little more about what exactly they are, what to wear them with and how to style them in summer, consider this your chino bible.
So, what exactly are chinos?
Now, you may be confused about what exactly chinos are. Well, by definition they are:
chi·no [ˈCHēnō/] n. 1.) a cotton twill fabric, typically khaki-coloured; 2.) casual pants made from chino or a similar fabric.
Chinos were designed in the mid-19th century as part of British and French military uniforms. Aesthetically, they are a cross between a relaxed suit trouser and a rugged denim jean. They can be worn skinnier on the leg or looser. They are typically low rise.
What is the difference between chinos and khakis?
It is easy to get confused between chinos and khakis, as the two terms are often used interchangeably. Chinos were originally khaki-coloured, due to them being created for military purposes. Therefore, "khakis" refer to chinos, but chinos are not necessarily khaki in colour (anymore). Nowadays, fashion brands are designing chinos in every colour under the sun, which is great for those of us who love to experiment.
How to wear chinos: choosing the right colour
Although khaki was the original colour choice for khakis, there's nothing that says you have to buy chinos in this hue. In fact, you should venture into other colour palettes.
Summertime sees chinos emerge in all colours and shades, from reds to lilacs to greens and everything in between. This is partly what makes chinos so versatile, as by switching up the colour you can make them suitable for any occasion - casual or formal.
For formal occasions in the summer, you should stick to neutral hues for that "classic" look. White, stone, beige, navy and grey - any chinos in these colours worn with a simple crisp white shirt and either some boat shoes or loafers is the ultimate cool ensemble that is formal-appropriate. Top it off with some sunglasses and perhaps a matching blazer, and you're ready to take on the world.
Or, if the occasion in question is marginally more casual, you have free reign over any coloured chinos that tickle your fancy - forest green, burgundy, taupe, etc. Just be sure to pair them with a plain white t-shirt, or something of that calibre, and you'll have a five-star get-up.
How to wear chinos: choosing the best cut and shape for you
The cut and style of men's chinos depend on your personal style and the occasion in question. In general, good fitting and stylish chinos are low rises and sit comfortably on the hip, are a bit lose on the leg and are tapered at the ankle. You may choose to turn up the trousers so that the bottom of the leg grazes the top of the ankle. For inspiration, think of your best suit trousers but turned down a degree or two on the "formal o-metre".
What to wear with chinos in summer
So, now that you have your perfect pair of chinos, you may be wondering how to style them in summer. Of course, this depends on the occasion, but here are some ideas:

Chinos and a t-shirt
Chinos and a simple plain t-shirt is a classic look that will never go out of style. Choose either navy, stone-coloured or black well-fitting chinos and pair them with a plain white or black t-shirt (crew neck or v-neck). Or, for a more nautical, sailing look, pair your navy chinos with a striped t-shirt and espadrilles. You'll look like you've stepped straight off a yacht in Saint Tropez.

Chinos and a shirt
For a slightly more formal look that is office-appropriate, why not opt for a cool shirt with your chinos? Pair your neutral-hued chinos with a white linen shirt or a simple 100% cotton shirt.

Chinos and a blazer
You can't go wrong with matching chinos and blazer set. It says formal but with an edge of coolness - perfect for those hot summer days where you're out and about on business.
Other jackets that compliment the casual ease of chinos are bomber jackets and long-line coats (however, these are not totally necessary for summertime).
How to transform your outfit from formal to casual
Like we stated earlier, chinos are perhaps the most versatile of men's trousers, purely because they can be worn day-to-night, in the office and out of the office.
For example, you can wear navy chinos to work, with a crisp white cotton shirt (choose Chambray cotton for coolness), a matching blazer, a tie and suede loafers. Then, when the work day finishes and you're heading off to a relaxed dinner and alfresco drinks, you can simply remove the tie, unbutton a couple of shirt buttons, swap the loafers for some white, light sneakers, and substitute the blazer for a bomber jacket or Harrington jacket (or, no jacket at all if it's warm enough).


Conclusion
When it comes to dressing in the summertime, you can't go wrong with chinos. They can be worn to almost any occasion, are super stylish and aren't as thick or as restrictive as suit trousers and denim jeans, meaning you'll stay cooler for longer. And, when paired with a smart shirt, blazer and shoes, chinos can also work in business environments.
For the ultimate chic modern man look, get yourself a pair (or multiple) pairs of chinos today!