HOW TO CREATE A HAMPTONS-STYLE HOME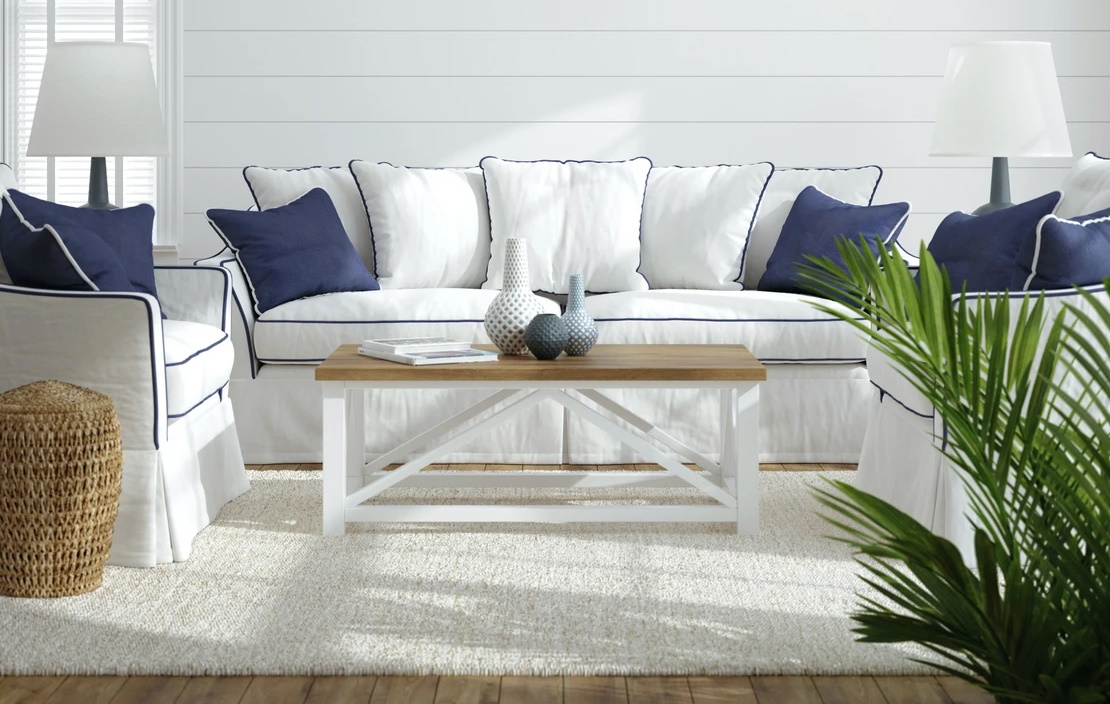 We're going to see a house today that is a wonderful study in the use of color. We're going to look at this house and learn a little bit about a lot of different things, including value and how you can bring out the beautiful "bones" of a good structure with color.


Exterior shots of the home
These are exterior shots of the existing home. There are three major elements you can see: the brick, the stucco, and the wood siding.
At first glance, it's easy to assess that this house has a lot of problems with its exterior. However, when we get closer, we get a better understanding of what makes this house so special.


Glass doors and Windows
I want to point out some of the things I like about this house. First, there are lovely dormers and an entry with a curved window. The brick gets smaller as it moves upward allowing for windows to be larger toward the top. You can also see that there is a nice pattern of windows on the side of the house where you might expect windows to be located based on where the sun is.
The stained glass in the front door also adds a lot to this home. I'm not crazy about stained glass, but when it's done right, it gives an added elegance that you don't see every day. This isn't cheap-looking stained glass; instead, it has some really lovely detailing work along with a special glass color.


Interior of the house.
This is a lovely home with an ample amount of natural light. You can see in both the living room and family room that the windows are in proportion to each other, allowing for balanced lines throughout.
Both areas have attractive fireplaces. I like how they incorporate fireplace accessories into their design theme of rich neutrals. The room on the left is a family room with a coffered ceiling. I think it's interesting that they have chairs facing the fireplace instead of a sofa, but it works perfectly for this space.


Choose Hampton Style furniture to highlight your space
When you're looking to choose furniture for a room like this, go with the La maison furniture store. Select from the variety of choices and options. For example, if you want to maintain the rich neutrals of these spaces, then look for dark wood furniture finished in walnut or mahogany. That will help tie it all together.


Hamptons coffee table
Hamptons coffee table is a great piece, by the way. I love the deep espresso finish and how it has plenty of storage space. When you're furnishing your home in this style, think about adding some occasional pieces that add functionality to your living spaces.


Hamptons dining table
This is Hampton's dining table. It does have a neutral stain but it has a bit of color undertone, which allows the wood grain to pop out more. This piece looks great with anything upholstered in brown or beige.


Hampton tv unit
This is a great example of one piece that can tie a room together. If you look at the color and size of this unit, it works perfectly with these spaces. It goes back to choosing pieces with built-in consistency so everything will flow from one space to the next.


Hamptons bedside table
This is another lovely little table. It's a nice size and it has a drawer, which you can keep things in like batteries and cords. This piece would also work well as an end table or nightstand next to the bed.
Don't be afraid of color! I think many people are afraid of introducing too much color into their decorating schemes, but there's no reason to shy away from it. The trick is to choose color strategically; otherwise, you could end up with a space that's too busy and doesn't look as elegant as it should.


Hamptons style coffee table
For example, this smaller coffee table is a great option for creating interest in your spaces. I like that it's not too big; you can use it as an end table or even as a nightstand next to the bed.


Hamptons dining chairs
This is Hampton's dining chair. It has a nice transitional style, so it works well to blend with traditional and contemporary décor styles. I love the nailhead trim on this piece, but you could also try something different that will work better for your style.


Hamptons bar stools
This is another good example of how to use color in your decorating schemes. The advantage of going with a dark finish is that it makes the colors pop out more and the lighter wood tones have a nice contrast against them.
If you want to go with a transitional style, use pieces that will work for both contemporary and traditional décor styles. You can also mix and match styles from other rooms in your home if you want to give a certain space an eclectic look.


Hamptons tray tables
In your living room or family room, adding a couple of these tray tables will help keep things organized without taking up too much space. I think it's a good option if you have a lot of surfaces to decorate but you don't want something that's too big.


Hamptons armchairs
This is Hampton's armchair. It has a nice transitional style that works well with traditional and contemporary décor styles, too. I love the shape here, which is square-ish at the back but has more of a classic wing chair look.
Read more about hamptons style homes.


Conclusion
So if you're looking to create a spectacular space, I recommend using one or more of these resources. Not only will you learn something new about decorating, but it'll make your job easier. It's the best way to get what you want without having to hire an expensive designer.
Hampton-style furniture is all about having the right pieces that work in several different types of decorating schemes. I guarantee you that when you go with this style, your living spaces will look elegant and polished in no time!