An Iconic Australian Destination you Shouldn't Miss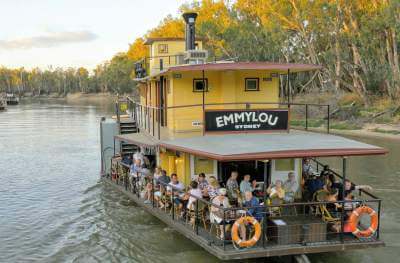 If you're looking for a unique holiday like no other in the world, a Murray River cruise could be just the thing. The Murray is huge, however, its waterways are untouched by larger commercial vessels. This means the steamboats and paddleboats taking passengers up and down the river present the only way to see this beautiful Australian landscape.
Cruises along the Murray can be taken in a range of different vessels, with different starting points along the way. Some vessels are small enough to book for a private group too, which is great for large family getaways or even corporate trips. Murray River cruises are an iconic Australian experience that everyone should have once in their life. Here's why! 
The Beautiful Murray River
The Murray River is Australia's longest river, stretching 2,508 kilometres. It begins in the Australian Alps and continues west until finally meeting the ocean in South Australia. As it flows inland from the Alps, it even forms the border between Victoria and New South Wales.
The landscape along the way is absolutely stunning, with banks both sparse and rich with local flora. One of the highlights for nature lovers is the appearance of several small River Red Gum forests which are quite unique to the area.
Don't be surprised to see folks standing on the river's banks, fishing for the famous Murray cod or other native fish like silver perch, Macquarie perch and trout cod. The Murray is home to plenty of other marine life, including yabbies, long-necked turtles and even platypus. You never know what you may find along the vast and beautiful Murray River!
Different Vessel Options
There are plenty of different vessels heading up and down the Murray, and the choice is yours depending on a range of factors. Firstly, you'll want to consider your starting point. For example, the Murray Princess and the Proud Mary always depart from Adelaide, whereas the Emmylou, a smaller vessel, leaves from Echuca in Victoria.
The Murray River cruises are all quite different. The Murray Princess is a traditional paddle boat accommodating 120 passengers and offers cruises from 3, 4 or 7 nights. The more boutique Proud Mary caters for 36 passengers and runs for either 2 or 5 night journeys. For those looking to start in Victoria, the Emmylou is a smaller vessel again, carrying 18 passengers and runs 1, 2, 3 or 4 nights cruises through the Upper Murray.
Whatever your preference, it's catered for, so you can relax in comfort and enjoy this beautiful Australian destination however you like.
Add in a Kangaroo Island Tour
If you're starting your trip from Adelaide on the Murray Princess or Emmylou, why not add on a tour of the stunning Kangaroo Island? You can take advantage of this experience either before or after your Murray River cruise, and it's a destination you will never forget.
You can do a fully guided coach tour which includes accommodation in Adelaide before or after your cruise, plus all ferry, accommodation, meals and tours while on Kangaroo Island. While on the island, you'll visit gorgeous places like Seal Bay, Remarkable Rocks and visit Honey Farms, Eucalyptus Distilleries and a Bird of Prey Park just to name just a few.
Don't miss out on this iconic Australian trip of a lifetime – start planning today!