Travel During Covid: Do You Have to Quarantine in Cambodia?
Written by

NewsServices.com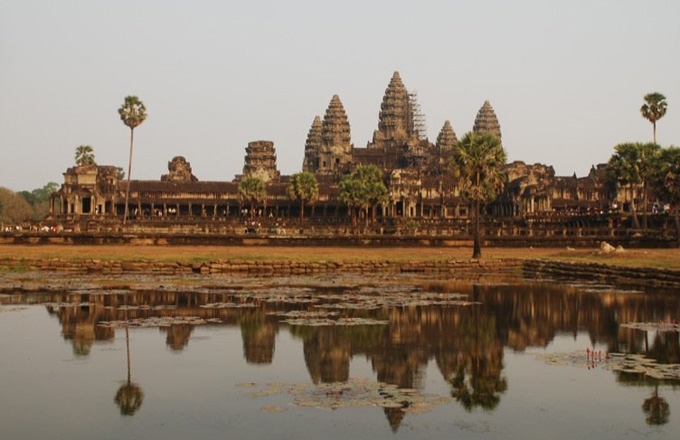 Overseas vacations may not be on the cards right now, but that's not stopping us from dreaming about our next trip away.
As a relatively nearby Southeast Asian nation, Cambodia might be on your wishlist. With stunning landscapes, impressive temples, and delicious food to enjoy, Cambodia sounds like the perfect getaway.
However, you'll have to wait a little longer to travel to Cambodia on vacation. COVID-19 restrictions mean the Cambodia visa for Australians is not being issued at this time. There are also testing and quarantine requirements in place for all travellers.
Read on to find out more about the restrictions and requirements during coronavirus.


Can I Travel to Cambodia?
You can only travel to Cambodia now for essential reasons. Tourist visas are not being issued to Australians or any other foreign nationals.
Like countries across the world, including Australia, Cambodia has closed its borders to international tourism to help limit the spread of COVID-19.
Visas are currently only available through the Cambodian Embassy. Diplomatic, official and other visas for essential visits are being processed. If you think you might be eligible to travel to Cambodia at this time, you should contact the embassy in Canberra.
When visa policy returns to normal, you'll once again be able to apply for a Cambodia visa online with an Australian passport.


What Are the Entry Requirements?
If you're granted permission to travel abroad by the Australian government, you'll have to meet several entry requirements. As mentioned above, the first step is to contact the embassy and apply for the relevant Cambodian visa.
You'll then need to arrange a few extra documents for your trip.
Firstly, you need to have a PCR COVID-19 test no more than 72 hours before departure, the result must be negative. Make sure the test certificate is in English and has the stamp or signature of the doctor that issued it.
The second essential entry requirement is insurance. You'll be asked for proof of insurance issued by FORTE, it must provide medical coverage of at least USD 50,000.
Finally, on arrival in Cambodia, foreigners need to deposit USD 2,000 in a designated bank account. This money covers the cost of transfers, tests on arrival and quarantine facilities.


There are some exemptions to certain entry requirements. Make sure you get all the information you need from the embassy in order to prepare for the trip.


Do You Have to Quarantine?
Yes, you have to quarantine on arrival in Cambodia. When you arrive at the airport, you'll be tested for COVID-19 and then transferred to a quarantine facility where you'll need to isolate for 14 days.
You'll need to take a further coronavirus test at either the Khmer-Soviet Friendship Hospital or the Chak Angre Health Centre in Phnom Penh on day 13. You can leave quarantine at the end of the 2 weeks, provided the test is negative.


Can I Travel If I'm Vaccinated?
You need to abide by the same entry requirements for Cambodia, whether you've been vaccinated or not. At present, travellers with a vaccination certificate still need a pre-departure test and to quarantine on arrival.
Entry requirements for vaccinated travellers to Cambodia could change in the near future.


When Can I Travel to Cambodia?
When you will be able to visit Cambodia again as a tourist depends on 2 main factors:
When the Australian government permits overseas vacations

When Cambodia starts issuing tourist visas again
With the pandemic evolving daily in Cambodia and across the world, it's difficult to predict when restrictions will be lifted. Limiting international travel is one of the most effective ways to prevent new variants of the virus from spreading.
Nevertheless, Cambodian authorities are eager to welcome back tourists to reactivate the economy. For this reason, borders will be reopened as soon as safely possible.
Make sure you stay up to date with the latest travel information. Remember that rules and restrictions may be changed at short notice during the pandemic.


Are Hotels and Restaurants Open?
It's not just international travel that's been affected by the coronavirus pandemic. Everyday life in Cambodia has been temporarily disrupted.
You will be able to find hotels and other rented accommodation, just be sure to book in advance. There are also health protocols in place, including temperature checks.
Restaurants need to meet government social distancing measures in order to offer dine-in services, otherwise, only takeaway is permitted.
High-risk services such as cinemas and nightclubs are closed. Other services are operating at limited capacity, and you'll usually need a 'Stop Covid' QR code obtained through a contact tracing app to enter.
Face masks must be worn in public spaces and large gatherings have been banned.
Like the travel restrictions, lockdown measures are reviewed regularly. If you are travelling to Cambodia during COVID-19, make sure you understand the current lockdown measures and follow local guidelines.